Boston Acoustics announced a special edition of its SoundWare XS 5.1 home cinema speaker system in high gloss black or white with matching subwoofers. The ultra-compact 5.1 speaker system brings a new level of style and substance to the fast-growing surround sound home entertainment category. It allows users to enjoy rich, room-filling surround sound with their home entertainment systems, while complementing virtually any decor in a stylish yet subtle manner.
The system's five SoundWare XS satellites are real two-way speakers. Each features a high-performance 2-1/2-inch (64mm) woofer and a 1/2-inch (13mm) tweeter. The contoured subwoofer features a 100-watt (250 watts peak) amplifier and 8-inch (203mm) driver.
Boston Acoustics is making optional SoundWare XS Special Edition satellite speakers available to create a 7.1 system. The system is designed for space-conscious and style driven consumers who want to enjoy great sounding music or powerful home theater audio.
Features
Unique SoundWare polyhedron shape for virtually unlimited placement options
Stealth articulating mounting brackets allow the speakers to be hung flush on a wall, or tucked away in a corner while allowing the speaker to be angled towards the main listening area
Powered subwoofer features Boston's Patented BassTrac circuitry for clear undistorted bass at all listening levels and includes both speaker level inputs and outputs and a line level out, providing consumers with the easiest, most flexible setup
Miniaturized authentic 2-way satellite system for true full range sound
Satellites feature dual wire channels for easy connections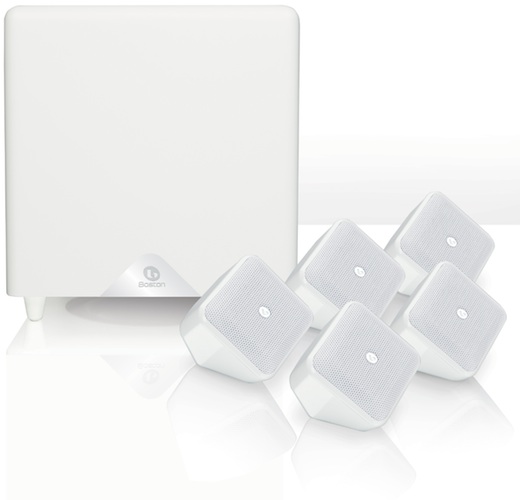 Price and Availability
The Boston Acoustics SoundWare XS Special Edition 5.1 Speaker System will be available September 2011 in black or white for $599.