Boston Acoustics introduced the cube-shaped SoundWare S 5.1 Home Theater Speaker System comprised of five ultra-compact SoundWare S satellites, each measuring less than 4-inches, plus a compact 10-inch 200-watt (300-watt Peak) powered subwoofer. It's the ideal solution for consumers who want to do away with bulky "box type" speakers and enjoy rich, room-filling sound in a stylish, compact system.
The SoundWare S is a step-up version of the company's similar SoundWare XS 5.1 system. SoundWare S offers home theater lovers even greater acoustic performance, with more immersive surround sound, more detailed dynamics and higher output with slightly larger sized speakers.
For users who want an even more detailed and immersive audio soundscape, Boston Acoustics is making optional SoundWare S Special Edition satellite speakers available, allowing users to create 6.1 or 7.1 channel surround sound systems. The compact satellites provide the dramatic audio power and performance of true two-way speakers, with 3-1/2-inch (65mm) mid-bass drivers and 3/4-inch dome tweeters.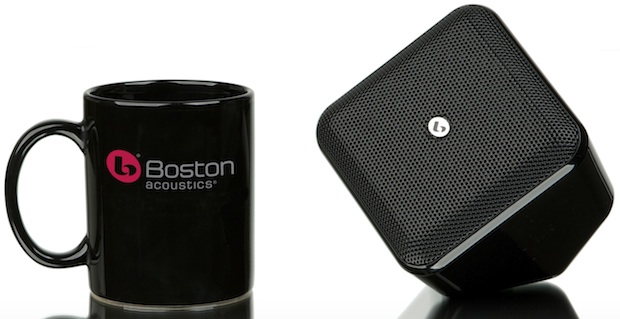 Features
Distinct SoundWare polyhedron shape for virtually unlimited placement options
Stealth articulating mounting brackets allow the speakers to be hung flush on a wall, or tucked away in a corner while allowing the speaker to be angled towards the main listening area
Powered subwoofer features Boston's Patented BassTrac circuitry for clear undistorted bass at all listening levels and includes both speaker level inputs and outputs and a line level out, providing consumers with the easiest, most flexible setup
Miniaturized authentic 2-way satellite system for true full range sound
Satellites feature dual wire channels for easy connections, with rear panel wire grooves for easier hook-up
MagnaGuard magnetic shielding
Pricing and Availability
See more about: Newest Speakers, Home Theater Speakers, Home Theater in a Box