B.M.C. Audio announced the Arcadia bi-polar floor standing loudspeakers for audiophiles, built with custom drivers, external crossover, in a ceramic-based cabinet. It is their first model in an anticipated series of three new speakers.
In developing the Arcadia, B.M.C. Audio didn't simply assemble a collection of off-the-shelf parts — it profoundly re-examined how speakers best work. As a result, the Arcadia is as technologically sophisticated as it is stylishly designed. The three-way speaker sparkles with daring innovations — from its bi-polar balanced configuration and ceramic-composite cabinet to custom-made drivers; plus an external crossover for each speaker system offering an impressive 28 jacks for ultra-flexible & upgradable connections for one or multiple amplifiers, the woofers and midrange drivers, and the Air-Motion tweeters.
Most conventional speakers, for example, project good depth of image in the center of the soundstage, but much less so at the sides. The Arcadia's bi-polar design, which features the same driver set on the rear as it does on the front of the cabinet, dramatically improves the listener's impression of depth at the left and right sides of the soundstage, making the soundstage more complete and realistic.
The Arcadia is also a balanced speaker. Both front and rear baffles feature two 6.1-inch Kevlar-Honeycomb-sandwich midrange drivers and an Air-Motion ribbon tweeter with a massive motor in conjunction with a light diaphragm for superb acceleration and high sound pressure capability. Two 11-inch Kevlar-Honeycomb-sandwich woofers with multi-magnet drives at the sides of each cabinet deliver impressive air movement.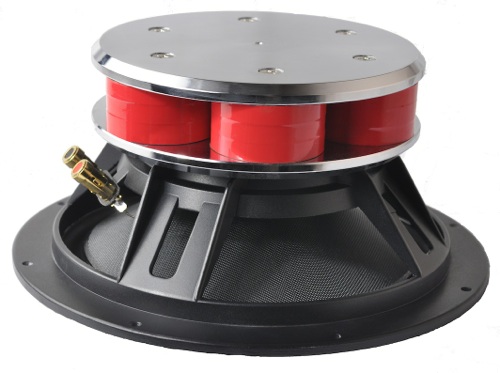 The speaker's striking cabinets are constructed of an exclusive, innovative ceramic-compound B.M.C. calls Megalith. In development since 2002, this is a dense, acoustically optimized amalgam of several aluminum-oxide-based ceramics with multiple grain sizes held together with complex acrylic binders. Unlike Epoxy or phenolic binders, the Arcadia's acrylics remain stable for decades.
The cabinet's advantages include an absence of base and midrange coloration, greater stiffness, and a lower internal energy loss than is possible with any cabinet made of wood. Resonance-free and rigid, the cabinet is also free from the effects of humidity and thermal elongation. In fact, the fusion of its parts is more like chemical welding, so that its elements react as a single, seamless piece. Three thin raised panels on each of the cabinet's sides emphasize its graceful verticality, and create a slim profile that helps the speaker comfortably fit in most living rooms.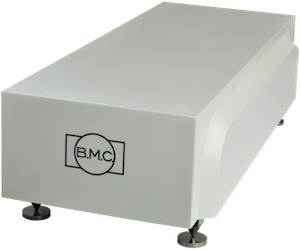 The crossover, uniquely, is external, and weighs 37.5 lbs. Being external frees it from internal sound pressures, and makes it easy to upgrade with future solutions designed to improve the sound even further.
B.M.C. Audio custom designed all the Arcadia's drivers. They feature honeycomb-Kevlar cones that are light, stiff, and free of resonance and coloration. Rather than use the traditional single magnet per woofer, B.M.C. Audio embedded each Arcadia woofer with 6 magnets arranged in a ring. This yields an exceptionally dense magnetic field for long linear excursion range of 0.27 inches.
Also unconventional, B.M.C. Audio custom crafted all the Arcadia's key elements, including its large air-inductors, inductance-free polypropylene capacitors, unique polystyrene 'by-passers'. Metal-film resistor arrays replace the usual MOX or wire resistors for superior precision and sound quality.
Arcadia applies a sealed construction process, avoiding bass-reflex resonances and significantly improving bass precision. The power of the drivers, and the cabinet's low energy loss, more than compensate for any loss of oomph in the sound. Each cabinet stands 47.2 inches high by 20.4 inches deep by 11.2 inches wide at the base, tapering to a narrow width of 7.7 inches at the top. Despite its relatively compact dimensions, each speaker weights 198 lbs., excluding the crossover.
Also notable, and unusual, is that the cabinet is made from a mold, which means the color is not applied later but added directly into the mix and solid all the way through for a non-glossy finish. A bonus of the process is that scratches can be buffed away without worrying about ruining the surface. B.M.C. applies a transparent lacquer for a high-gloss finish.
Price and Availability
The Arcadia speaker is available from Aaudio Imports, its North American distributor, in a black or white satin or high gloss finish at a suggested price under $39,000/pair.