RIM announced the BlackBerry Curve 9320 smartphone with social-centric features to keep people connected, while offering global 3G connectivity backed by long battery life to allow users to make the most of their day. It features a dedicated BBM key, bringing the power of RIM's popular mobile social network up in an instant, as well as the best keyboard in its class for quick and easy typing. It includes a built-in FM radio, allowing users to tune into their favorite local stations, and listening to the FM radio does not require a data plan or use data services. Designed to allow both 3G connectivity and long battery life, customers can get up to 7 hours of talk time or up to 30 hours of FM radio listening or music playback with headphones.
Customers can easily interact with their social network in real time, using preloaded apps for Facebook and Twitter. The new Social Feeds 2.0 app is also preloaded, allowing users to post updates to multiple social networks simultaneously and capture updates from news sources (RSS), social apps and instant messaging apps all in one consolidated view. The integrated camera includes a flash and supports video recording, and pictures can be tagged with their location thanks to the smartphone's built-in GPS.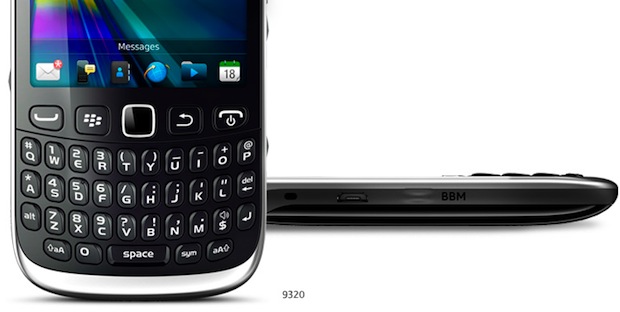 The BlackBerry Curve 9320 comes with the new BlackBerry 7.1 OS, which supports features such as Mobile Hotspot and Wi-Fi calling where available. Parental Controls is a brand new, on-device feature that provides parents and guardians with simple options to help protect children by restricting access to specific functions, features and applications. Additional features include a 3.2-megapixel camera with flash, 4x digital zoom, image stabilization, geotagging and extended depth of field.
Also announced was the near identical BlackBerry Curve 9220, which has a paltry 2-megapixel camera without flash or image stabilization. Otherwise its dimensions and talk-time are the same.
Pricing and Availability
TBD. Check price on the 9220 or 9230. See more about BlackBerry or Smartphones.