BenQ today announced the W1100 and W1200 cinema projectors, which deliver the ultimate in big screen entertainment. Perfect for multidwelling unit (MDU) media rooms, these projectors are built on Texas Instruments' DLP technology and feature full HD 1080p resolution with remarkable color and detail, high brightness, and extremely high contrast ratios with virtually no color decay.
Convenient, affordable, and easy to set up, the W1100 features full HD 1080p resolution and a high-quality, twelve-lens optical system to produce sharp picture quality. Providing an extraordinary A/V experience for MDU residents, the projector offers an enhanced brightness of 2,000 ANSI lumens, 4500:1 contrast ratio, and full 10-bit color processor. The result is astounding precision, rendering every color, shadow, and shape in amazing detail. The W1100's color management system provides superbly balanced hue; adjusted to the users preferred contrast, brightness, color temperature, gamma, and white balance levels.
In addition, with its built-in SRS WOW HD sound technology and dual 10-W speakers with dedicated sound chambers, the W1100 delivers a dynamic audio experience. MDU developers can now provide their residents with immersive sound right out of the box, without the additional expense of add-on sound systems.
Like the W1100, the W1200 offers full HD 1080p resolution and a full 10-bit color processor, complemented by a brightness of 1800 ANSI lumens and an ultra-high 5000:1 contrast ratio. For truly breathtaking colors, the projector's Advanced Color Wheel Coating technology boosts color saturation (with 85 percent NTSC color gamut displays). When combined with the W1200's full HD optical system, this technology allows the delivery of pure colors in every detail, virtually free of color delays.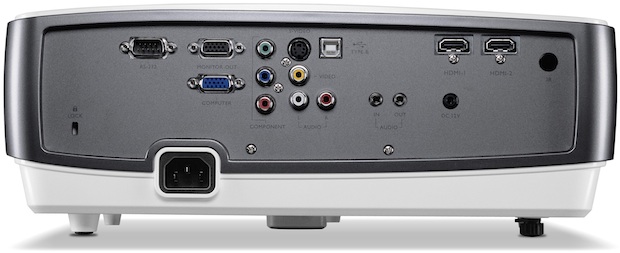 Ideal for high-rise dwellers that demand superb video output, the projector's Video Frame Interpolation technology eliminates motion blur for an ultra-smooth, high-quality image, even with the most demanding fast-motion picture content. Providing optimal performance, the W1200 has received ISFccc certification from the Imaging Science Foundation.
Price and Availability
The W1100 and W1200 are available at MSRPs of $1,499 and $1,999, respectively.