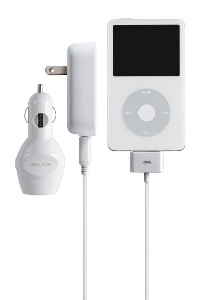 Whether in the Car or at Home, These Power Accessories Maintain or Replenish the Battery in Your iPod
Belkin announces four accessories that will charge, sync, and/or play your iPod. At home, the Power Dock will charge and sync your iPod while the Power Dock AV will charge, sync, and play your iPod. The Power Adapter connects your iPod directly to a wall outlet to keep it charged.
AVAILABILITY
— Currently available with launches in Asia, Europe, and Australia to follow.
Power Dock AV (F8Z126) – $49.99
Charges and plays your iPod through home entertainment center
Syncs with iTunes using included USB cable
Power Dock (F8Z122) – $34.99
Charges and plays your iPod through your computer
Syncs with iTunes using included USB cable
Charging Kit for iPod (F8Z152) – $34.99
Includes wall-outlet and in-car power adapters
Includes USB cable for charging
Power Adapter for iPod (F8Z121) – $24.99
Includes wall-outlet power adapter
Includes USB cable for charging
These accessories are compatible with the following iPod models:
iPod nano 2nd generation (aluminum)
iPod 5th generation (video)
iPod nano 1st generation
iPod 4th generation (color display)
iPod 4th generation
iPod mini 1st generation
iPod and iTunes are trademarks of Apple Inc., registered in the U.S. and other countries.
About Belkin International, Inc.
Belkin offers a diverse product mix that provides people with seamless electronics integration in their homes, cars, and on the go. Founded in California in 1983, Belkin is a privately held company and the recognized leader in connectivity solutions, in addition to accessories for MP3 devices, computers, and more. We provide extensive solutions for networking, home theater — with our PureAV line of cables, power, and digital wireless accessories — and many more categories. You can view and purchase them at http://www.belkin.com, as well as through a network of major distributors, resellers, and superstores.
Belkin's phenomenal growth has led to our expanding global presence. In addition to corporate headquarters in Los Angeles, we now have offices throughout Europe — in the United Kingdom, the Netherlands, and Germany, among others — and in the Asia Pacific region, including Australia, Shanghai, and our regional headquarters in Hong Kong.