Serious sound performance wrapped in unconventional design
BeoLab 9 exceeds your expectations every time you hear it. Combining superior sound with freedom of use and placement, the performance of the latest high-end loudspeaker from Bang & Olufsen belies its modest dimensions.
An icon of sound
A strong manifestation of our sound competences and the latest technologies, BeoLab 9 is also the fourth loudspeaker from Bang & Olufsen that applies the Acoustic Lens Technology in the treble area. Partly integrated into the conically-shaped cabinet that holds the mid-range and bass units, the lens sits atop the speaker — almost like a lighthouse — dispersing the treble in an arc of 180 degrees.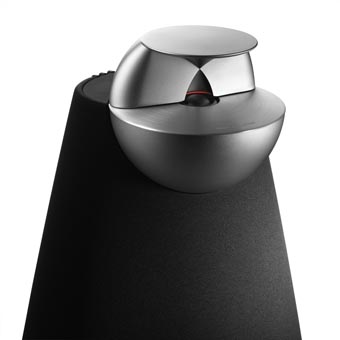 With its 180-degree horizontal dispersion, the Acoustic Lens Technology guarantees uniform sound characteristics in front of the loudspeaker, letting the listener hear constant timbre even when moving around or sitting in different places. In addition, reflections from floor and ceiling that distort the sound are reduced significantly by the lens.
BeoLab 9 also offers serious bass performance as well as the latest in ICEpower amplification and active technology. BeoLab 9 is a three-way active loudspeaker with the bass and mid-range units placed in their own dedicated pressure chambers. The bass is supplied by a generously dimensioned 10-inch unit, residing in an 18-litre enclosure. The mid-range frequencies are handled by a 5-inch unit in a 4-litre enclosure, and a 3/4-inch treble unit. Each unit is powered by its own amplifier; a 500-watt ICEpower for the bass and 2 x 100 watts, analogue hybrid amplifiers for the mid-range and treble units.
Normally, a loudspeaker's performance is strongly influenced by its physical position in the room. Yet, Beolab 9 adapts to its placement through a manual position switch that makes it possible to place the speaker in a corner or close to the wall without compromising the sound.
Innovative technologies provide BeoLab 9 with adequate power at all times and also protects its circuits, permitting them to run smoothly and safely even at peak sound pressure levels. To protect the electronics from damage, a dedicated thermal protection circuit is also applied to all units. The Bang & Olufsen-patented Adaptive Bass Linearisation technology ensures excellent bass performance without the risk of distorting sound quality or damaging the units.
Cool, differentiated design
Compared to market references, the compactness, organic visual identity and multiple colours of BeoLab 9 give it a distinct appearance which also reflects the technologies applied. The acoustic lens at the top is cast in zinc with a matt chromium-plated surface, giving it a robust metallic look that makes it stand out. The bass and midrange units are covered by a fabric frame available in red, blue, dark grey and black, and so BeoLab 9 can both blend in and stand out in any home decor.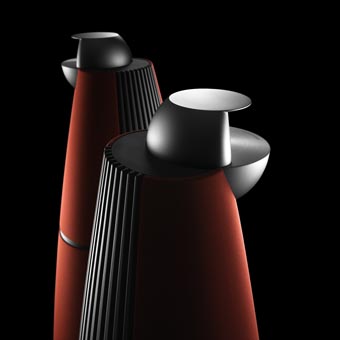 Universal application
Designed to be a perfect acoustical match to the other Acoustic Lens sound performers in the Bang & Olufsen loudspeaker range, BeoLab 9 can be used in a surround sound setup (front or rear), or as a fully capable stereo speaker in a music system. It works perfectly as a link room loudspeaker and connects easily to non-Bang & Olufsen equipment. It is as universal as you could possibly want, and its impressive performance most definitely contradicts its modest size.
Technical specifications
Designer
David Lewis
Dimensions
(H x W x D) 77.5 x 40 x 30 cm
Weight
17.6 kg
Output power
Long-term max. output power 600 watts
Frequency area
30-20,000 Hz
Acoustical principle
Closed box
Treble unit
3/4-inch speaker unit based on the Acoustic Lens
Mid-range
5-inch speaker unit
Bass
10-inch bass unit
Connections
2 x Power Link (incl. line)
Mains (global 100-240 V AC)
Position switch (wall, corner and free-standing) left/right position switch
Placement
Floor placement