PC/TV Combo Delivers Best of Both Worlds
TriGem USA announced the Averatec 25.5-inch D1200 all-in-one (AIO) computer, the largest AIO offering for under $1,000 available today. The new AIO plays video at true 1080p resolution and features a built-in hybrid digital/analog TV tuner, making it an ideal TV replacement. The D1200, which is offered at an MSRP of $999, is now available.
"With its sleek, contemporary AIO design and crisp LCD, the D1200 is an ideal system for power users and those looking for a computer that can function both as a PC and TV," said Henry Hewitt, vice president of sales at TriGem USA. "The system's affordable price point makes this innovative technology and design accessible to a broader segment of customers. The D1200 is an ideal solution for those who are 'space challenged' and need a PC/TV combo that fits easily in apartments, dormitories, bedrooms, kitchens and smaller homes and offices.
"With the cost of LCD televisions of comparable size ranging from $600 to $700, Averatec customers are getting a full-functioning TV with complete PC capabilities for only about $200 more. You can't beat that."
The multimedia capabilities of the Averatec D1200 deliver a versatile multimedia device for home or office. The hybrid TV tuner enables the AIO to view analog or digital television programming.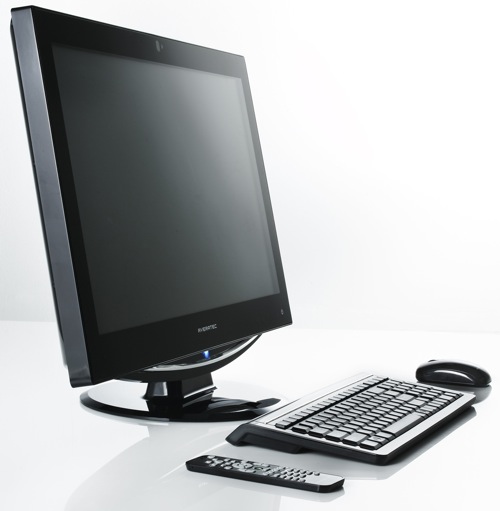 The new 25.5-inch Averatec D1200 AIO features a 2.5GHz Intel Pentium dual-core E5200 processor, 320GB hard drive, 4GB of memory, the 64-bit version of Microsoft Vista Home Premium and integrated wireless keyboard and mouse.
TriGem USA and its Averatec brand have a widely respected reputation for stylish designs and innovative, value-oriented products, Hewitt noted. The space-saving design of the D1200 enables it to be placed in any location where TV viewing and daily PC use is desired by a family, student or small business.
"Customers can place it on a TV stand in their bedroom enabling them to work from any location with ease using the integrated wireless keyboard and mouse, while still having the convenience of watching television," Hewitt said.
The new all-in-one PC is optimized for handling everyday computing tasks such as Web browsing, e-mail, word processing, photo editing, home and business accounting, video editing, games and social networking. It includes an 8x super-multi DVD optical drive, built-in 2.0-megapixel webcam, WLAN wireless 802.11N compliant networking and wired gigabit 10/100/1000 Mb/s network connectivity.
The D1200 will be available for purchase at Best Buy.com, TigerDirect/CompUSA and Averatec.com.
TriGem's products are backed by a one-year limited warranty and one-year of technical support available Monday through Friday, 8 a.m. to 5 p.m. Pacific Time.
Specifications — Model D1200
| | | |
| --- | --- | --- |
| Processor | | Intel Pentium Core 2 Duo E5200 (2.5GHz) |
| Screen | | 25.5″ WXGA 1920 x 1200 |
| Memory | | 4GB DDR2 (expandable to 8GB) |
| Hard Drive | | 320GB SATA |
| Optical Drive | | 8X super-multi, slot-loading |
| Wireless LAN | | 802.11N |
| Video Solution | | Intel G4500HD |
| Wired LAN | | Built in 10/100/1000 Mb/s LAN |
| Special Feature(s) | | Hybrid ATSC/NTSC TV tuner |
| Keyboard & Mouse | | Integrated Wireless |
| MCE Remote | | Full functional wireless remote |
| Webcam | | 2.0 megapixel |
| Dimensions | | 24.2″(W)x10.5″(D)x19.9″(H) |
| OS | | Vista Home Premium – 64 Bit |
| Dimensions | | 24.2″(W)x10.5″(D)x19.9″(H) |
| MSRP | | $999 |