WACI Nugget Series of Remote Access Serial, IR, Relay, and I/O Controllers Now Shipping
Aurora Multimedia announces that it is now shipping its WACI Nugget series of fully functional, stand-alone remote access controllers. The WACI Nugget Serial™, IR™, Relay™, and I/O™ provide LAN-based control while functioning as remote expansion ports for Aurora Multimedia's WACI series of IP-based control systems.
Featuring an RS-232/422/485 port, the WACI Nugget Serial is the ideal solution for providing IP-to-serial control. For IP-to-IR control, the WACI Nugget IR offers an IR output port, and a single A/D for add-on sync sensor or current sensor. The WACI Nugget Relay provides two C-Type relays for devices needing relay control, while the WACI Nugget I/O features two I/O ports for devices needing I/O functionality.
"We are pleased that our WACI Nugget series is now available to our discerning customers," said Paul Harris, Aurora Multimedia's CEO. "Not only do the devices function as stand-alone remote access controllers, but they provide added value by expanding the capabilities of our powerful and non-proprietary WACI series of IP-based control systems."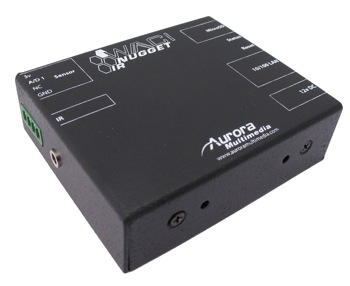 All controllers in the WACI Nugget series offer a POE-capable LAN port and MicroSD card slot, and provide internal Web servers for storing control pages and other media. The controllers offer extremely small form factors and feature power over Ethernet capability, allowing for mounting in tight locations, with only a single cable run required.
About Aurora Multimedia Corporation
Aurora Multimedia Corporation is a leading provider of IP-based control systems, processors, and touch panels for A/V systems, and is the exclusive source for Digital Extender connectivity solutions from RTcom USA, Inc. Aurora Multimedia's innovative A/V solutions address a variety of global markets, including government, education, security, hospitality, corporate, and residential. Advanced A/V processors, with features such as audio delay compensation, scaling, multi-image rotation, and dual/quad display processing, add to a highly adaptive, diversified product line, which is backed by a limited lifetime warranty. In business since 1997, the company is based in northern New Jersey.