Audio-Technica today announced three new models of high-performance in-ear headphones for consumers. The ATH-CK6A, ATH-CKM50A and ATH-CK7A combine clear, richly detailed sound quality with unmatched comfort and portability, and are designed to accommodate everyone who wants to hear exceptional sound, anywhere.
Crystal Griffith, Audio-Technica Consumer Marketing Manager, noted, "Our new in-ear headphones were created to let listeners experience more of their favorite music — more clarity, detail, and impact — and above all, more musical enjoyment."
The Audio-Technica in-ear headphones are perfect for listening to music anywhere — at home, in the dorm or office, whether exercising, jogging, traveling on a plane or train or anywhere users want to enjoy their music. All the headphones are small and ultra-lightweight for easy portability, and all models come with three interchangeable sizes of soft ear tips (small, medium and large) for a customized fit with maximum comfort and acoustic isolation. Though compact, Audio-Technica's new in-ear headphones deliver dynamic, detailed and expansive full-range sound. All models offer extremely high sensitivity (the ability to efficiently deliver audio signals) and wide frequency response, enabling users to get the best sound from all their music sources including the iPod, portable music players, portable DVD players, laptops and other devices.
Following is an overview of the new in-ear Audio-Technica headphones.
ATH-CK6A (SRP: $79.99) These headphones come with three interchangeable loop support pieces, to ensure a perfect fit for any wearer. The ATH-CK6A incorporates miniaturized, advanced-technology rare-earth drivers to provide an outstanding listening experience. It is available in black or silver and comes with a convenient travel pouch.
ATH-CKM50A (SRP: $79.99) The ATH-CKM50A delivers exceptional high-fidelity sound, thanks to its improved design that mounts the driver diaphragm directly onto the edge of the driver's enclosure for increased resolution and impact. Available in black, white and red, the ATH-CKM50A is supplied with a 2-foot cable, 3.25-foot extension cord and a handy carry pouch.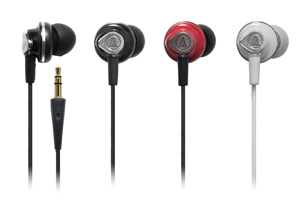 ATH-CK7A (SRP: $169.99) These in-ear headphones feature ultra-lightweight and durable titanium construction and deliver superlative sound, utilizing 11 mm rare-earth-magnet drivers to deliver powerful bass, accurate midrange and extended treble, and ear tips that greatly reduce outside noise. The ATH-CK7A comes with a convenient hard case.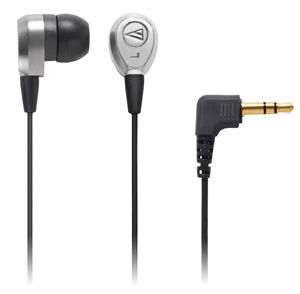 The new Audio-Technica in-ear headphones are currently available at authorized dealers and online retailers.
Celebrating over 45 years of audio excellence, Audio-Technica is renowned worldwide for a broad range of consumer and professional audio products, including high-performance headphones, microphones, wireless systems, turntables and phono cartridges. Winner of numerous industry awards, Audio-Technica designs and manufactures products that set quality, durability and price/performance standards for major concert tours, broadcast and recording studios, corporate and government facilities, theaters, house-of-worship venues,and consumer applications. Learn more at www.audio-technica.com.
For more information on the complete range of Audio-Technica products, contact
Karen Emerson, Audio-Technica U.S., Inc., 1221 Commerce Drive, Stow, OH 44224.
Tel: (330) 686-2600; Fax: (330) 688-3752; Web: www.audio-technica.com.
For further information regarding product availability and pricing in the United Kingdom, please contact Denise Burnage (dburnage@audio-technica.co.uk); in Germany, please contact Anja Groth
(a.groth@audio-technica.de); in the rest of Europe, please contact Evangeline Pirot (epirot@audio-technica-europe.com).