Atlantic Technology has introduced the System 4400 THX Select home theater speaker series, replacing its critically acclaimed System 4200e system. The new series maintains the same driver complement and electronics as its predecessor, with improved aesthetics and ergonomics for custom installation.
"The System 4200e's performance was so universally adored by critics, dealers, and consumers alike that we decided to do something radical for its replacement," comments Atlantic Technology President Peter Tribeman, "we didn't change a single acoustical component or parameter. There were, however, some changes and improvements that had been requested — including a simplified wall mount system, and a cosmetic update to match the larger THX floorstanding systems. We're glad to be able to accommodate those requests while still maintaining the essential character that's made this such a successful product line for Atlantic." In response to requests from dealers, installers, and consumers the System 4400 LR and 4400 C speakers now feature inset speaker terminal cups, and the 4200 LR speakers include integrated keyhole mounting slots to allow for simple flush mounting on the wall. Additional changes to the series include an updated tweeter mounting baffle to match Atlantic's other THX speaker lines, and a new satin black finish for the 4400 SR surround speakers.
The Atlantic Technology System 4400 provides the home theater enthusiast with premium THX Select certified performance in a moderately priced product that looks and sounds like a far more expensive system. The 4400 LR and 4400 C front speakers each use a pair of 5.25-inch GLH (Graphite Loaded Homopolymer) woofers mounted flanking a single 1-inch silk dome tweeter. The 4400 LR employs a vertical MTM configuration for wide, highly linear horizontal dispersion, while limiting vertical dispersion to reduce unwanted reflections from the floor or ceiling. The 4400 C includes the same drivers oriented horizontally, but with the woofers side-by-side and the tweeter above and between the woofers.
| | |
| --- | --- |
| | |
| 4400 LR | 4400 C |
Both the 4400 LR and 4400 C include a pair of controls that can adapt sound quality for different speaker placements. A three-position High Frequency Energy switch adjusts for rooms that are acoustically too bright or too dull. A Boundary Compensation toggle can be used to adjust the lower-midrange output to compensate for the sound colorations caused by placing a speaker close to a TV screen, or building it into a cabinet or shelving unit.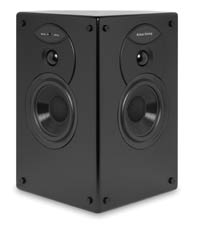 4400 SR
The 4400 SR dipole/bipole surround speakers use two oppositional woofer and tweeter systems, angled to the left, and another identical system angled to the right. A front-panel switch allows the pair to operate either out of phase in a dipole mode typical of side surrounds, or in-phase as a bipole speaker for rear surround use.
The Atlantic Technology System 4400 speakers will be available in late May in attractive satin black finishes, with the 400 LR and 4400 C also available in gloss black. Suggested retail price for the 4400 LR is $1,050 per pair; suggested retail price for the 4400 C is $600 each; suggested retail price for the 4400 SR is $950 per pair. Ideally, the system would be combined with an Atlantic Technology 642e SB subwoofer for a 5.1-channel system price of $3,800.
From its inception, Atlantic Technology's mission has been to produce home entertainment products that exemplify the very best in both performance and value. The company specializes in complete high-performance multi-channel speaker systems, state-of-the-art home theater electronics components, and products for custom audio/video installation.
Atlantic Technology speaker systems are designed and engineered as integrated multi-channel ensembles, and hand assembled at the company's Norwood, MA facility. These systems are tailored and tuned to provide a seamless and startlingly realistic soundstage for multi-channel music and home theater.
For more information on Atlantic Technology and its many fine products for home theater and custom audio/video installation, visit or call 781-762-6300.
4400 LR
4400 C
4400 SR
Type
Sealed-box 2-way M-T-M array
Sealed-box 2-way M-T-M array
Sealed-box dipole/bipole surround speaker
Woofer
[2] 5-1/4″ GLH
[2] 5-1/4″ GLH
[2] 4-1/2″ GLH
Tweeter
[1] 1″ silk dome
[1] 1″ silk dome
[1] 1″ silk dome
Frequency Response
80Hz – 20kHz +/- 3 dB
80Hz – 20kHz +/- 3 dB
80Hz – 20kHz +/- 3 dB
Nominal Impedance
8 Ohms
8 Ohms
8 Ohms
Crossover Frequency
2.5 Hz
2.5 Hz
3 Hz
Crossover Type
Computer designed Butterworth 4th-order asymmetrical (time aligned) Linkwitz-Reilly
Sensitivity
90dB
90dB
90dB
Recommended Amplifier Power
10-150 Watts RMS
10-150 Watts RMS
10-150 Watts RMS
Magnetic Shielding
Yes
Yes
No
Dimensions w/ grilles (w x h x d)
8.3 x 15 x 9.5″
18.4 x 8.4 x 9.7″*
10.9 x 12.4 x 7.5″
Weight (each)
15 lbs.
11 lbs. (with base)
17 lbs.
Finishes
gloss black / satin black
gloss black / satin black
satin black
MSRP
$1,050 per pair
$600 each
$950 per pair