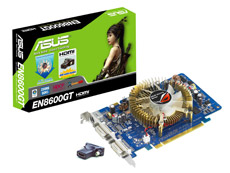 Enhance Home Theater Experiences with ASUS' "HDMI Certified" Graphics Cards
With the widespread proliferation of PC products utilizing HDMI connections in recent years, HDMI is deemed as the next digital interface for the home entertainment center. ASUS, leading provider of high-performance graphics solutions, introduced the ASUS EAH2600PRO/HTDI/256M and EN8600GT/HTDI/256M — high performance graphics cards that feature bundled high-quality HDMI adaptors certified by HDMI Licensing, LLC. Home theatre lovers can now enjoy enhanced and convenient home multimedia to the fullest with these newly launched ASUS "HDMI Certified" graphics cards.
Tremendous Benefits with HDMI Connectors
HDMI has quickly become the connection standard for HDTV and the consumer electronics market. Being the first and only digital interface to combine uncompressed high-definition video, multi-channel audio, intelligent format and command data in a single digital interface, HDMI dramatically simplifies home theater system installation and helps provide users with the ultimate home theater experience.
Official "HDMI Certified" Graphic Cards
The HDMI format is defined, specified and governed by HDMI Licensing, LLC in the USA. "HDMI Certified" simply refers to any product that meets all of the strict criteria as set out by HDMI Licensing. Utilizing any HDMI product that is not approved may result in poor performance, and can even void the warranty on users' other HDMI enabled hardware. Therefore, the "HDMI Certified" ASUS EAH2600PRO and EN8600GT are definitely the most trusted graphics cards for home theater enthusiasts to choose from.
Exclusive Fansink Design
Both models utilize a new generation of specially designed cooling fans and heatsinks to dissipate heat efficiently. Exclusively designed, these cooling solutions make for better cooling, and can therefore lower temperatures tremendously in comparison to reference design boards.
Splendid Video Intelligence Technology
With Splendid Video Intelligence Technology, images enabled by ASUS graphics cards are fine-tuned to deliver vibrant visual representations in conditions most favorable to the human eye. Therefore, watching movies on the PC is as good as watching them on top-of-the-line consumer televisions. Splendid is also the perfect companion to AMD's Avivo HD and NVIDIA's PureVideo HD technology — providing superb hardware acceleration for video decoding.
Exclusive ASUS GamerOSD for Versatile Graphics Usage
The ASUS EAH2600PRO and EN8600GT also come with the exclusive ASUS GamerOSD that unleashes the true power of ASUS' VGA cards. This feature is able to deliver GPU overclocking and chat options from onscreen displays during gameplay — allowing users real-time performance upgrades when they require it. Additionally, it also provides users with the option to record live gaming action or live broadcasting over the Internet with ease.
Specification
| | | |
| --- | --- | --- |
| Model | EAH2600PRO/HTDI/256M | EN8600GT/HTDI/256M |
| Graphics Engine | ATI Radeon HD 2600PRO | GeForce 8600GT |
| Video Memory | 256MB DDR2 | 256MB DDR3 |
| Engine Clock | 600MHz | 540MHz |
| Memory Clock | 1GHz(500MHz DDR2) | 1.4GHz (700MHz DDR3) |
| Memory Interface | 128-bit | 128-bit |
| Max. Resolution | 2560 X 1600 | Up to 3840 x 2400 |
| Bus Standard | PCI Express X16 | PCI Express X16 |
| VGA Output | YES, via DVI to VGA Adapter | YES, via DVI to VGA Adapter |
| HDTV Output | YES, via HDTV Out cable | YES, via HDTV Out cable |
| TV Output | YES | YES |
| Dual DVI Output | YES | YES |
| HDCP Compliant | YES | YES |
| Adaptor/Cable Bundled | DVI to HDMI Adapter | DVI to HDMI Adapter |