Includes a DIY model and Media Server model with a 5.1 Surround Sound package.
Aspen Media Products (AMP), a Digital Media Management Company, proudly announces its 2009 Consumer Lineup. Amp's Home Media Servers allow you to store and view your digital photos, burn and listen to your favorite music, PVR and watch your favorite Digital TV shows, and download and watch your favorite movies. The CL-1058DIY is a new model for the do-it-yourself community and allows customization of their media server from AMP's online store. The CL-1058BD, CL-1058BDH, and CL-1058H models all includes 500 GB of storage and other features ranging from a standard Blu-ray player to a 500 watt, 5.1 surround sound package.
Aspen Media Products (AMP) is committed to manufacturing Media Servers that deliver more than just home media and more than any competitor's product. The AMP CL-1058DIY (starting at $949) includes a cable card tuner, an option that is normally reserved for higher priced models, and allows customization options such as processor, memory, storage and even adding an additional cable card tuner. The choice of a 100 watt x 5 amplifier card or 7.1 preouts is also included as an option. The CL-1058BD (starting at $1049) also gives you a few customization options and comes standard with a Blu-ray player. The CL-1058BDH (starting at $1349) adds a 500 watt, 5.1 surround sound package including 5 satellite speakers with stands and a 300 watt powered subwoofer. The CL-1058H (starting at $1099) includes the 5.1 surround sound package, but comes with a standard DVD drive.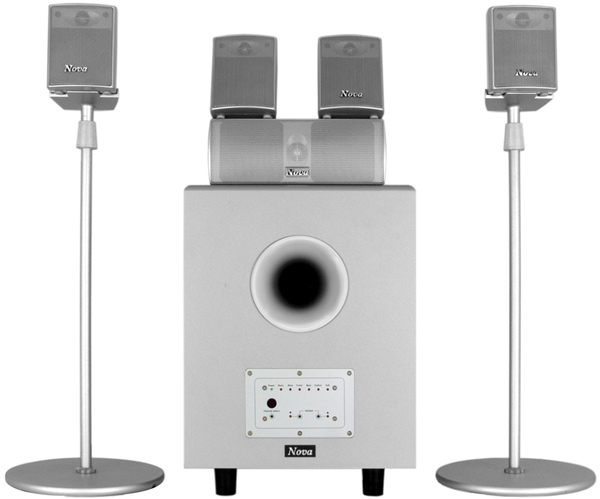 "We are excited to offer our new 2009 lineup that gives the customer the flexibility of customizing their server," said John Oliver, Chief Executive Officer, Aspen Media Products. "We are especially proud of our new models that come with a 5.1 surround sound package. More and more families are looking for great value in family entertainment at home and we can provide that with our Consumer Line models."
AMP's Home Media Server is based on Windows Vista Media Center and replaces many of one's existing A/V equipment with a simple, easy to use solution and interface for today's digital lifestyle consumer. The CL models software features everything a consumer needs for total media control -all from one interface. Aspen Media Products Consumer Line is available immediately from their online store (www.aspenmediaproducts.com) and other popular online retailers.
The AMP Consumer Line provides all these features in a machine that looks elegant, runs incredibly quiet, and is energy efficient. Aspen Media Products "AMPlifies Your Life" by providing a complete Home Media Server that complements your digital lifestyle.
About Aspen Media Products, LLC:
Formed in 2001, Cutting Edge PCs manufactured and sold best in class professional computers and business servers. Recognizing that there was a void in the Audio Video Industry, together with a move towards the convergence of the PC and the A/V device, Cutting Edge PCs evolved into Aspen Media Products (AMP) with a goal of filling this void by creating a range of Windows based Media Servers without equal. Through carefully listening to the Audio Video Industry, AMP has created unique solutions based on consumers' wants, needs, and desires. We have created products that contain hardware that is state-of-the-art yet reliable and combined them with an interface that is simple to operate. AMP differentiates itself by offering all the features of a high-end media server at an affordable price point that appeals to middle-America and enthusiasts alike! AMP is positioned far beyond any other "Media Server" manufacturer. Our products create an unprecedented lifestyle experience and are designed to enable our customers to record, manage and consume their digital media on their terms.