Sleek in design, powerful in sound, the SUPERSTAR iPod Music Center is an All-In-One Stereo Speaker; Just Plug in a Music/Sound Source and GO!
StJohn Group, North American distributor for Artcoustic, the leader of superbly engineered, aesthetically designed on-wall loudspeakers & subwoofers, has added the Artcoustic SUPERSTAR™ to its product line-up.
The SUPERSTAR is designed to hang on the wall like most Artcoustic loudspeakers and has a BUILT-IN 2 x 150 Watt stereo amplifier that simply plugs into any AC outlet. A detachable shelf will hold any portable music player and allows the device to simply plug into the amp's input and play. It is a complete stereo system in one compact slim line unit, designed for use in residential applications such as kitchens, bathrooms, bedrooms, studys, game and recreation rooms; and commercial applications, such as boutiques, bars, restaurants, offices, reception areas, gyms, and hotels.
The system is compatible with any of today's popular digital sources, for example iPod, iPhone, Airport Express, Sonos, Squeeze Box, Bose, Bang and Olufsen systems, and can be used as a stand-alone system or combined with a second unit for wider stereo separation or as part of a multi-room, distributed audio system.
Photo: The Artcoustic SUPERSTAR with three of the unlimited front screen options
Technology: Sound Acoustic Principles
With the Artcoustic 160° ultra-wide-axis Target lens technology on the twin tweeters, the Artcoustic SUPERSTAR provides the listener with near perfect acoustics even in the most demanding listening environment. Coupled with Artcoustic's advanced X2 series subwoofer technology, the listener will experience powerful and detailed sound, normally only achieved by a much bigger and complex system.
The PA-260 incorporated amplifier performs smoothly and accurately even in the most demanding conditions. It features DSP bass equalization settings that optimize bass performance when SUPERSTAR is mounted away from a reinforcing side wall. Auto-on/Auto-off signal sensing is included, and it can operate in stereo, or mono mode. In addition to its one pair of RCA signal inputs, the amp also houses a mini USB port for powering an iPod or other portable music devices along with one set of Bang and Olufsen DIN signal inputs.
The amp is fully protected against overheating and shorting, and includes DC prevention at the output stage. The PA-260 is matched to the SUPERSTAR'S impedance and tonality and offers incredible 2-channel performance supported by a silent running dual fan speed cooling system that can be defeated if necessary. System gain controls, status LEDs and a full off and on switch are also included.
Design – Form Flows with Function
Artcoustic understands that speakers should be as good looking as the interior design and furniture in a project. Speakers are often unattractive and functional; but the SUPERSTAR, with its unique interchangeable screen system ensures that it will complement any interior. This gives you the freedom to choose the look of the front of the speaker, to personalize your SUPERSTAR then change it whenever you like! The SUPERSTAR is also an extremely powerful and dynamic loudspeaker, leaving the performance-minded listener just as happy as the design-oriented one.
The speaker's width and height are the same as Artcoustic's DF65-50 speaker, so all digital print and image screens (or speaker grilles) for the DF65-50 will fit the SUPERSTAR.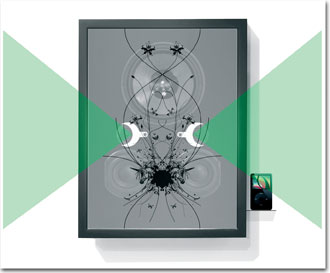 Photo: The Artcoustic SUPERSTAR with digital art print screen and tweeter dispersion array superimposed over speaker drivers.
Suggested retail price for the SUPERSTAR with one of the eight Match System screens is $4,150. Optional Digital Print screens can be ordered from the 108-page Artcoustic Art Portfolio, or may be supplied by the client. A black finish frame is standard, but custom color finishes can be ordered for an additional charge.
Key Features of the Artcoustic SUPERSTAR:
Powered stereo speaker in one slim line, wall hanging cabinet.
Built-in, 2 x 150 Watt, fan cooled amplifier with signal sensing turn on and off, and short protection
Three-way full range music center: 2x 1.5″ HF drivers; 2x 5.5″ LF-MF drivers; 1x 10″ subwoofer
Inputs for iPod and Bang and Olufsen music systems
Mini USB port for charging source unit
Onboard gain and DSP bass shaping control settings.
Frequency Response: 30Hz to 40kHz
Sound Pressure Level: 93 dB; Max SPL 106 dB avg. 4 Ohm continuous power handling 120W
Wide range of custom art screens available or use one's own art files.
Dimensions: 25.6″ x 19.7″ x 5.1″ (H x W x D)
Weight: 40 lbs.
Visual & Textual Assets
About Artcoustic
Founded in 1998, Artcoustic is world renowned for its range of high-end performance wall mounted speakers that feature interchangeable screens that allows one to choose from a vast array of fabrics and decorative prints to suit the interior. The superior product range has been awarded for its groundbreaking designs and is sold worldwide. The speakers are designed by Danish duo Kim Donvig and Patricia Ljungberg. Going back to the roots of Danish loudspeaker design, Artcoustic has transformed the way sound and speakers can enhance the atmosphere and interior.
About StJohn Group
StJohn Group, Inc. is not a typical American distributor. Only representing lines offering exclusive North American distribution opportunity allows the company to closely work with its partners on a holistic approach to brand development. Unlike most U.S. distributors, StJohn Group handles all facets of sales and marketing, including literature and collateral creative and production, advertising creative and buys, public relations, web sites, business development and long range market planning.
Based in Bellingham, WA with a satellite office in Ventura, CA, StJohn Group has seventeen regional representative firms and an active roster of more than 800 specialty A/V dealers.
StJohn Group specializes in products and services for the custom integration (CI) market – both residential and commercial – and represents Artcoustic and Cabasse Loudspeakers, Cineversum projectors, iSky Panels and Screen Excellence in North America and the Caribbean.