Two Artcoustic Professional Monitor Spitfire 4-2-1s with PA-1800 3-channel amplifier
Full-range speaker sports impressive power handing and sound pressure levels in a cabinet only seven and a half inches deep
Artcoustic has introduced a new speaker designed for professional studio and high-end home cinema applications. The new speaker – the Artcoustic Spitfire 4-2-1 model – is the latest addition to the Spitire line of professional-grade monitors and subwoofers.
Easily exceeding reference pressure levels with a maximum output of 122dB in a form factor that is less 7 and a half inches deep, each loudspeaker is sold with the Artcoustic PA-1800 power amp, which when tri-amped delivers 1800W per speaker. The 4-2-1 can be bi-amped or tri-amped. No additional subwoofers are needed.
The Spitfire 4-2-1 can also be partnered with the Spitfire Subwoofers, Spitfire Venues and additional PA1800 amplifiersas the audio centerpiece of the finest home cinema systems and professional studios.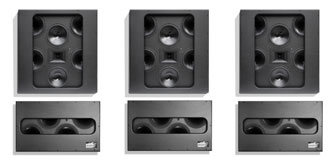 A Spitfire Cinema (left) featuring the 4-2-1 front (L+C+R)
speakers and three additional Spitfire subwoofers
(above) behind the screen.
The North American retail price for the speaker and amp combination is $8,920.
Typically known to interior designers and design-conscious consumers who seek out Artcoustic for its signature designer speaker grilles, the company has within the past two years also focused on power and performance for home cinemas with acoustically transparent screens, where speakers can be hidden away from view.
The Spitfire 4-2-1 consists of four ten inch sub units functioning below 120Hz, two ten inch bass/mid units functioning from 30 to 3,000Hz, and one compression horn functioning from 3.5kHz to 16kHz, -3dB.
Specifications
Power Handling:
Subwoofer 550 watts into 8 ohms
Mid 250 watts into 4 ohms
High 100 watts into 8 ohms
System SPL:
Subwoofer 99dB into 8 ohm 1 watt 1m. max. SPL 118dB
Mid 97dB into 4 ohm 1 watt 1m. max. SPL116dB
Hi 104dB into 8 ohm 1 watt 1m. max. SPL122dB
Combined system SPL bi-amped or tri-amped:
100dB into 6ohm 1watt 1m. max SPL 122dB (mid and hi set to small)
Dimensions:
Width: 31.5 inches
Height: 33.2 inches
Depth: 7.33 inches
John Caldwell, sales director for StJohn Group, stated, "Artcoustic, the first manufacturer to introduce the now ubiquitous L/C/R sound bar speaker to the market in 2000 has once again pressed the envelope of performance with the introduction of the Spitfire 4-2-1. Known for their thin on-wall designs, the Artcoustic line now consists of 22 different models that look and sound amazing. While the 4-2-1 will most often find it's way behind acoustically transparent projection screens of mid to large venue theaters, it has all the fidelity, impact and emotional satisfaction that our dealers and discriminating clients have come to expect."
About Artcoustic
The business concept for Artcoustic evolved from the idea of providing an exclusive loudspeaker system to consumers that shared a passion for superb sound quality and a preference for design that reflected their own personalities and tastes. The Artcoustic loudspeaker range has been designed for today's diverse interiors for the home, home cinemas, corporate boardrooms, professional recording studios, restaurants and hotels.
The loudspeakers are flat, only 3″ or 5″ deep, depending on the model. The sleek design gives the loudspeaker the character of a picture that can hang discreetly on the wall. This is enhanced by the individual freedom that allows the customer to choose the look of the front of the speakers. With solid color fabric or designs on the front screens, most don't realize it is a speaker until it is turned on and playing.
Founded in 1998, Artcoustic is world renowned for its range of high-end performance wall mounted speakers that feature interchangeable screens that allow one to choose from a vast array of fabrics and decorative prints to suit the interior. The superior product range has been awarded for its groundbreaking designs and is sold worldwide. Going back to the roots of Danish loudspeaker design, Artcoustic has transformed the way sound and speakers can enhance the atmosphere and interior. The Artcoustic loudspeaker has effectively erased the distinction between a loudspeaker and furnishing, yet remains true to the intended purpose: Superb reproduction of sound.
The Artcoustic Match System
The Artcoustic Match System is an in-house developed textile process. The 8 colors available for absorber and loudspeaker screens provide the opportunity to match colors to complement your interior. It has never been easier to change the look of your loudspeakers and make them a part of your interior. Use the color swatches below as a guide.
The Artcoustic Gallery
Artcoustic hand-picks artists and designers from around the world and invites them to create exclusive artworks for the Artcoustic Art Portfolio. The portfolio is available for viewing HERE. Each artwork/design is produced as a digital print and handmade into a screen for your speaker or your absorber.