Visit Us at CES Venetian Tower 30-234 & 236; Enjoy Argentum Cables at Loiminchay Audio Venetian Tower 29-335
Ultralink/XLO Products, Incorporated — the industry's fastest growing manufacturer of audio/video interconnects, cables and power products — feature their already well-reviewed Argentum series interconnects and cables at CES.
Argentum Acoustics are designed with solid engineering and advanced materials techniques cultivated over ten years producing cable. They're designed for high-end, two-channel systems but work extremely well in crossover video installations where sound is paramount. Worldwide demand has been stunning and Argentum Acoustics' website is now available in four languages.
Being and Nothingness – The Design Brief
Everyone insists that cables must be neutral and totally passive with zero effect on the sound. But the simple facts are that passing current through a conductor and its insulation or dielectric produces well-documented electrical phenomena. That's why Argentum cables are engineered to be the "active" components they must be to effectively deal with these effects rather than avoiding "inconvenient truths".
Examples of "active" elements that must be taken into account are many: Current passing through a conductor and its insulator creates surrounding magnetic and electrostatic fields. Then there's the cable's characteristic impedance, capacitance, resistance, inductive reactance, plus the capacitive discharge effect that depends on the dielectric constant and its dump or release rate. Visit ArgentumAcoustics.com's Multimedia page, download the White Paper, and find out more than you wanted to know about cable!
Enduring Quality
Argentum Acoustics cables are manufactured with the very best materials, processes and dielectrics available, hand terminated with beautifully engineered, industrial designed connectors and an elegant black jacket. Conductors are 99.99998% laboratory-grade UPOCC (Ultra-Pure Ohno Continuous Cast) copper except for the silver Argento, featuring ultra-low capacitance DuPont™ Teflon™ insulation. The direct 24K gold-plated connections are nonmagnetic and minimal mass ensuring low self-inductance. Speaker cables are terminated with interchangeable 8.0mm billet-cut spade lugs of CDA alloy 101 copper (99.994% pure) directly gold plated with no intervening layer of nickel spoiling the sound. Or choose quality Deltron-style banana plugs. All Argentum Acoustics cables are cryogenically treated during the manufacturing process.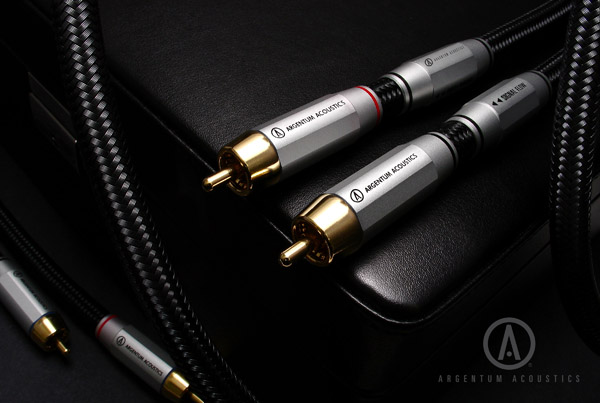 About Ultralink/XLO Products Inc.
Ultralink/XLO Products Inc., headquartered in Ontario, California is an industry-leading manufacturer of high-performance audio and video cables and UltraPower™ AC power products, Canada's market share leader in the field. In early 2002 Ultralink Products Inc. acquired XLO Electric Co., Inc. a well-known brand of audiophile reference cables and interconnects. Ultralink also introduced the elegant "Engineering Truth" Argentum Acoustics™ line of cables and accessories. Ultralink is a member of PARA, CEDIA and the CEA. For more information on Ultralink/XLO's Argentum cables call 909-947-6960 or find them at www.argentumacoustics.com.
MSRP: $300 to $1850 – Available: Now
"Music is the most perfect form of art." – Albert Camus