"The Bauhaus Powerhouse" Advanced Technology High-Definition AV Receiver For Serious Home Cinema
Stereo Hi-fi – DAB Radio, the very latest digital audio/video processing and Dolby Volume. Networking with Internet Radio will be an option. Projected price T.B.A.
If there ever was a product deserving of the title 'Elegant Beast' it's the AVR600. While Japanese AV receivers are coming to resemble caricatures of themselves, festooned with huge knobs, thousands of buttons and daft features, Arcam have taken the contrary approach to deliver every modern Home Cinema and Hi-Fi technology, wrapped up in a sleek minimalist package, with the heart of a monster power amplifier.
Massive Real Power: A huge toroidal power transformer and high efficiency class G amplifiers, ensure ample power for demanding material, yet keeps power consumption down and allow the AR600 to run relatively cool. Power of 120 watts per channel is delivered with ALL channels driven; competitors often quote just two channels driven.
Absolute State-Of-The-Art Digital Technology: By waiting for HD technology and chip sets to mature Arcam have been able to use latest generation technology silicon to deliver higher quality than competitors. Video Scaling and Processing for all sources is remarkable bringing even standard definition input close to HD quality. The new DTS-HD Master, DTS High Resolution, Dolby TrueHD, Dolby Digital Plus decoding standards are all supported. 5 HDMI inputs and 2 outputs allow multiple sources to feed separate displays.
Serious Hi-fi: One button turns the AVR600 from a Home Cinema monster into a high-end stereo Hi-Fi amplifier. Arcam never forget that people play music as well as movies and have employed their 30 years of Hi-Fi experience, to make sure that on music this is the best-sounding AV receiver on the market bar none.
Around The House – The installer's favourite: The AVR600 can supply music to three zones simultaneously and for more ambitious house projects, it has everything necessary to integrate into any level of Custom Install. Arcam is consistently one of the favourite brands specified by CEDIA installers globally.
Real-life benefits from Dolby Volume – Stop Ads Shouting!: The AVR600 will be one of the very first receivers to feature Dolby Volume. This has two key advantages: levelling of the wildly varying volume levels of broadcast media (especially true of TV adverts) and volume dependant tonal balancing, particularly useful for city dwellers as
it gives a full, rich yet clear sound when listening at low levels, where much of the surround information can be lost.
Arcam's Unique High-end FMJ Technologies boost sound quality: Electromagnetic interference is damped using Arcam's proprietary 'Mask of Silence' & 'Stealth Mat' technologies. An SDS sound-damped-steel low-resonance chassis keeps damaging mechanical vibrations to a minimum for enhanced clarity. FMJ = Full Metal Jacket. This was the internal company code name for the design project that led to the first battleship build quality FMJ Hi-Fi products. It stuck!
The FMJ AVR600 will be one of the world's first Home Cinema receivers to feature Dolby Volume.
Dolby Volume: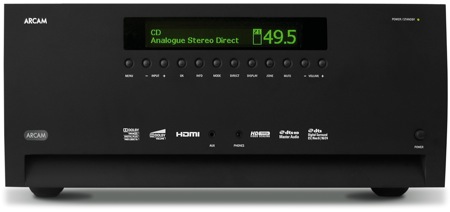 Dolby Volume is designed to deliver consistent, high-quality audio experiences from a broad spectrum of input sources and playback devices. By addressing inconsistent volume at the device level, Dolby Volume can deliver outstanding performance and enhance the enjoyment of digital entertainment.
Dolby Volume brings a fundamentally different approach to delivering consistent volume levels across a wide variety of content, channel programming or input sources. Using a psycho-acoustic model of human hearing, this sophisticated technology performs measurement, analysis and control of perceived volume levels.
Dolby Volume complements Dolby's range of audio technologies including Dolby Digital, Dolby Digital Plus and Dolby TrueHD. In addition to audio levelling, Dolby Volume continually analyses the audio and properly balances low, middle and high frequencies to maintain the nuances and impact of the program material regardless of playback volume.
Real-life benefits from Dolby Volume
The Preferred Volume, All the Time
Dolby Volume technology maintains system playback volume at the same preferred level across all sources, from progressive programming and channel selections on a TV set or set-top box or between connected sources such as CD and DVD players, audio or video-cassette players, and portable digital media players or other playback devices. Dolby Volume technology lets the listener set the playback volume once and not have to touch the volume control again. In addition, Dolby Volume lets the listener control a program's dynamic range. For example, with the volume turned down for late-night viewing, dynamic range can be adjusted so that dialogue remains clear, and loud effects or wide dynamic music passages retain their impact and timbre without waking up the family.
Vibrant Quality, Loud or Soft
Dolby Volume also compensates for the ear's changing sensitivity as the volume is turned up or down. It properly balances low, middle, and high frequencies to maintain all the nuances and impact of the program material regardless of playback volume level. At high or low levels, Dolby Volume guarantees a listening experience that includes all of the dynamics of the original mix.
Dolby Volume measures, analyses, and maintains volume levels based on how people perceive sound. It examines a variety of audio parameters to maintain consistent playback levels whether switching between channels or between multiple source inputs. A sophisticated combination of spectral- and time-based loudness analysis enables it to quickly and properly correct level differences without creating compression artefacts or undesirable pumping in the audio signal.
Consistent Listening Experience
Maintaining level while compensating for the ear's sensitivity guarantees audibility and enjoyment, all the time.
About Dolby Laboratories
Dolby Laboratories is the global leader in technologies that are essential elements in the best entertainment experiences. Founded in 1965 and best known for high-quality audio and surround sound, Dolby innovations enrich entertainment at the movies, at home, or on the go.