Twice the Capacity of Other DVR Expansion Systems
Apricorn, announced a 2TB DVR Expander design for DIRECTV DVRs, the largest capacity DVR external hard drive on the market. Apricorn's DVR Expander can add up to 1124 hours of standard programming or 250 hours of high definition programming to DIRECTV DVRs.
"DIRECTV provides the largest number of high definition programs in the industry," said Mike McCandless, Apricorn's VP of Sales and Marketing. "With high definition content, recording space is at a premium and can quickly consume the internal storage capacity of the DVR. The launch of Apricorn's 2TB DVR Expander now gives our customers enough space to record hundreds of hours of their favorite HD programs."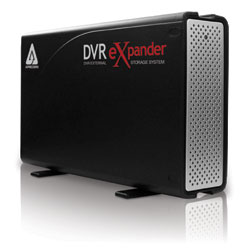 Available in 1TB, 1.5TB and 2TB capacities, the DVR Expander gives customers plenty of room to record the over 130 HD channels that DIRECTV currently provides.
Never miss your favorite shows again
Perfect for recording your favorite shows while on vacation, the DVR Expander's sleek aluminum enclosure and whisper-quiet, fan-cooled design keeps the drive cool, even when placed in a cramped TV cabinet.
Setup takes just minutes
Setting up the DVR Expander to work with your DIRECTV receiver couldn't be easier. Simply power down the DIRECTV DVR, connect the DVR Expander to your DIRECTV DVR eSATA port, restart your DIRECTV system and the DIRECTV Program Scheduler will instantly update to show programs recorded on the DVR Expander.
Any pre-recorded programs already on your DIRECTV internal drive remain untouched. To view your old programs, simply disconnect the DVR Expander from your system and restart your receiver. Your original recordings stored on the DIRECTV receiver internal drive will now show on the Program Scheduler.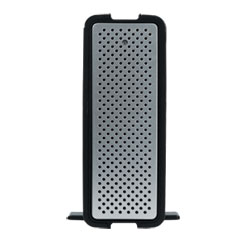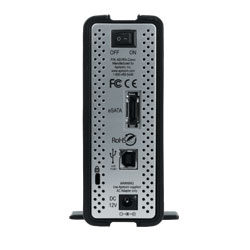 Use Multiple DVR Expanders to Record, Archive and Organize Your Shows
Keeping your recordings organized is a snap with Apricorn's DVR Expander. Have one DVR Expander for all of your sporting events, one for your favorite movies and shows, and one for cartoons for the kids. Now you never have to fight over recording space.
Pricing & Availability
Apricorn's DVR Expander for DIRECTV systems is available from online retailers and Apricorn's website at apricorn.com/directv. Suggested retail pricing starts at $129 for the 1TB model and $259 for the 2TB model. One year limited warranty.
About Apricorn
Celebrating 26 years of leading the personal storage industry, Apricorn offers a broad family of innovative, high-quality storage, backup & upgrade products for notebook & desktop applications. Apricorn was founded in 1983 and has developed numerous award winning products under the Apricorn brand and is an OEM supplier to a number of leading computer manufacturers. Apricorn is headquartered in Poway, California, and distributes products throughout US and Canada.