Jazz has devoted efforts on developing USB speakers, these are new products for you!
1.iFun-JS1200UA
iFun, Jazz's latest USB mobile theater, is especially designed for women and young-aged notebook users. With its compact size, stylish shape and fancy color, iFun features not only its hi-tech design but also easiness to carry with your notebook; it is also thanks to its USB bus power so that no external adapter is required. No doubt iFun is always your best partner when traveling meeting and enjoying entertainment.
iFun consists of one driver for each speaker and adopts the latest Xear 3D technology to provide 5.1 CH virtual effect and adjustable EQ (equalizer) such as Jazz, Rap, Rock, Live and so on. Moreover, the software is very user-friendly; you may create various kinds of listening models which suit your own style. Just clicking the buttons, the superb software tools are ready for you.
2.Bzcom- J1302
Bzcom, an innovative net speaker, is named by its main function — Business Communication. It combines the functions of speaking and listening, providing powerful sound effect with software 7.1 virtual effect and X-ear 3D technology. Just connect it with the internet, plus Skype, yahoo messenger or MSN, you will experience the convenience of talking online with your friends.
It is easy to carry with USB bus power. Without the limitation caused by a set of wired handset and microphone, it can be freely used. Also, the multi-user function makes good to distance business meeting, cross-national conference or online chatting because many people can talk at the same time without ruining the effect. Plus no echo when using, business meeting will be more efficient.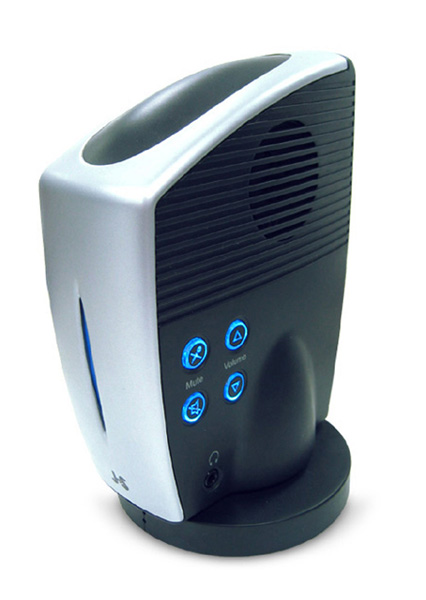 3.Hub Speaker
Hub Speaker is a new product of Jazz. It is designed to make up a deficiency of USB ports on a computer, giving users more convenience to use other 3C products with USB interface. Therefore, it is not only a USB 2.0 multimedia speaker, but also a USB hub.
Hub speaker is no doubt a smart design; as you can imagine, it stands beside your computer screen, and it is so easy for you to insert a USB mouse, a USB webcam, or a USB flash disk on the hub speaker at the same time. In addition, hub speaker provides 5.1 virtual sound effect and X-ear 3D technology, giving you a whole new USB environment for PC entertainment. If you want more powerful sound, Jazz offers an optional subwoofer for hub speaker.