Alpine Offers Seven Bluetooth Solutions For Hands- and Hassle-Free Cell Phone Use While Driving
Ever tried dialing a phone number or untangling ear buds while driving with one hand on the wheel? It's not just a major inconvenience; many states have enacted laws banning the usage of handheld cellphones when behind the wheel. Alpine Electronics of America, Inc., the industry-leading manufacturer of automotive mobile media solutions, offers seven Bluetooth-enabled products designed for automotive use, giving consumers the flexibility to choose the hands-free option that fits their in-car needs.
Alpine's 2009 Bluetooth solutions include hideaway Bluetooth modules that add hands-free capabilities to Alpine in-dash receivers; in-dash audio/video/navigation systems with integrated Bluetooth; portable navigation units with Bluetooth built-in; and Bluetooth-enabled products that sit on top of the car dash.
"The need for Bluetooth in the car is rapidly growing because drivers recognize the benefits of hands-free cellphone use," said Stephen Witt, vice president, marketing, Alpine Electronics. "Alpine is expanding our range of Bluetooth-enabled products to meet the diverse needs of drivers and vehicle requirements."
Bluetooth Interface Modules
KCE-400BT
Powered by Parrot for expanded phone compatibility and optimal sound quality, the new
KCE-400BT Bluetooth Interface Module enables drivers to conduct hands-free phone conversations through the vehicle's sound system. The KCE-400BT works with Alpine 2008 and 2009 model in-dash receivers. (Consumers with 2008 model head units should consult with their Alpine dealer about compatibility.)
Users can view their phone book and full call information on the head unit's display, including Caller ID, Missed Calls, Dialed Calls and Received Calls. (Compatible Bluetooth phone required; consumers should check with their Alpine dealer for phone compatibility.) Additionally, the KCE-400BT supports voice-tag dialing and auto-answer, if the paired Bluetooth device has these features. The KCE-400BT is also updatable; future software to support new phone models and other upgrades can be downloaded and installed via a PC and the wireless Bluetooth connection.
The KCE-400BT can wirelessly control and stream audio files stored on Bluetooth-enabled cellular or portable devices that support audio streaming, allowing music to be played through the car's sound system and song information to be shown on the head unit's display.
"Parrot is proud to supply its expertise in connectivity to a leading player such as Alpine. Parrot has the technology that enhances comfort and convenience for drivers and is glad to let Alpine customers enjoy its know-how," said Eric Riyahi, OEM Executive Director at Parrot.
Also available is the KCE-350BT Bluetooth Interface Module, which is compatible with Alpine 2007 and 2008 model Ai-NET head units.
Bluetooth-Enabled Audio/Video/Navigation Systems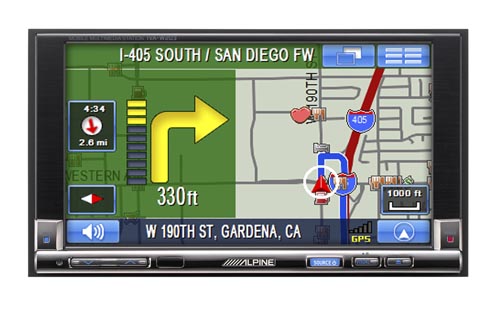 The Alpine IVA-W505/P1 and IVA-W203/P1 are all-in-one double-DIN audio/video/navigation (AVN) systems with DVD-R/-RW/MP3/WMA audio and video playback, powerful navigation and Bluetooth connectivity, among other features. The IVA-W505/P1's 7-inch WVGA color touch-screen and the IVA-W203/P1's 6.5-inch QVGA color touch-screen display provide fast, easy graphical control over all system functions.
Both AVN systems have a built-in Bluetooth module that provides hands-free phone connectivity when used with a Bluetooth-enabled phone. Users can answer and place phone calls, with the conversation played through the vehicle's sound system. An external microphone is included to allow for optimal performance placement in the car. Calls can be dialed out using the touch-screen 12-key phone dial pad, and call data such as Dialed Calls, Missed Calls and Received Calls can be displayed on the monitor. If a Point of Interest (POI) is chosen from the navigation menu, the user can call the POI directly via a touch of a button on the screen.
Dash-Top Bluetooth Solutions
| | |
| --- | --- |
| | |
| PND-K3 | eX-10 |
Alpine offers three dash-top products with built-in Bluetooth: the new PND-K3msn portable navigation system with MSN Direct content and services; the PND-K3 portable navigation system; and the newly enhanced eX-10 Advanced iPod Controller with Bluetooth.
The PND-K3 and PND-K3msn's Bluetooth module, which also uses Parrot technology, adds hands-free calling features to these navigation units. It is particularly useful for the driver who is looking up a destination or POI on the unit. If the phone number for the destination is known or is listed as part of the POI address, a phone call can be placed to the destination directly from the navigation device simply by touching a button on the screen.
The eX-10, which consists of a 2.4-inch TFT color display that sits on top of the car dash and a wireless remote control, enables consumers to upgrade their cars by adding iPod control and Bluetooth hands-free calling features, with all audio transmitted through the car's factory sound system. Bluetooth commands such as Phonebook list, Missed Calls, Received Calls and Dialed Calls are displayed on, and accessible through, the eX-10. If the cellular or portable device supports streaming audio profiles, music can be transmitted from the device to the eX-10, then played through the car's sound system.
PRICING AND AVAILABILITY:
Alpine products are available at authorized Alpine dealers.
KCE-400BT Bluetooth Interface Module
Availability — January; Suggested retail index — $180
KCE-350BT Bluetooth Interface Module
Availability — Now; Suggested retail index — $230
IVA-W203/P1 In-Dash Audio/Video/Navigation System
Availability — Now; Suggested retail index — $1,200
IVA-W505/P1 In-Dash Audio/Video/Navigation System
Availability — Now; Suggested retail index — $1,400
PND-K3msn Portable Navigation System with MSN Direct
Availability — February; Suggested retail index — $500
PND-K3 Portable Navigation System
Availability — Now; Price — $349.95 at participating U.S. retailers
eX-10 Advanced iPod Controller with Bluetooth
Availability — Now; Price — $149.95 at participating U.S. retailers
ABOUT ALPINE ELECTRONICS
Alpine Electronics is an automotive electronics manufacturer that supports drivers in over 60 countries and provides the world's leading auto makers with audio, video, navigation and driver assistance products. The company specializes in system integration solutions with innovative vehicle entertainment and information technologies.
Alpine's R&D and manufacturing facilities in Japan, China, Europe and North America ensure that all products address the real world requirements of drivers in each market. The company is committed to developing products that are safe, comfortable and eco-friendly for the automotive environment.
For more information about Alpine Electronics, visit www.alpine.com. For more information about Alpine's aftermarket products, visit www.alpine-usa.com.