Low Cost 10.4″ Intel Atom Rugged Tablet PC for Field Service, Factory Automation, and Retail Service Industries
American Industrial Systems, Inc. (AIS) introduces a Low Cost 10.4″ Rugged Tablet PC into the marketplace featuring the Intel Atom N270 Processor for long battery life and high industrial reliability. The tablet PC sports an elegant, practical design featuring an aluminum-magnesium alloy construction with individually sealed ports for complete IP54 compliance waterproof and dustproof protection. The unit has passed UL60601-1 Medical Equipment Certifications for approved electronic compatibility and reliability in the medical field. On top of the certifications the unit is engineered to Military 810F shock, vibration, and drop standards to withstand the most extreme applications in the field.
AIS' Rugged Tablet comes with a high capacity lithium ion battery, enabling it to be used on the go and in outdoor environments with ease. By utilizing the latest in Transflective technology and sunlight readable touchscreens, AIS can provide optimum visibility in direct sunlight conditions where standard tablets would fail. The ergonomically designed hand-held tablet PC features programmable buttons and touchscreen technology for quick and easy navigation. Additional accessories are available such as charging bases, barcode scanners, carrying straps, and GPS receivers to cater the tablet PC to your requirements.
Staying connected is simple with integrated 802.11b/g WiFi and Bluetooth modules, which allow easy connection to wireless networks and Bluetooth devices without the need for external hardware. Where a wireless Internet connection in a non WiFi enabled area is required, the unit has an integrated PCMCIA slot to allow the addition of wireless modems and third-party devices such as GPS. Windows XP, Embedded and CE are available, allowing optimal tuning and performance to your specifications.
Through combining MIL-810F ruggedness and reliability, IP54 element protection, and the Intel Atom Processor, AIS has created a cost effective all-in-one rugged tablet PC solution designed for oil and gas industries, heavy equipment, automation, machine control, warehousing, and new opportunities where cost would have previously prohibited.
AIS Rugged 10.4″ Tablet PC Starting MSRP: $1499 (check price)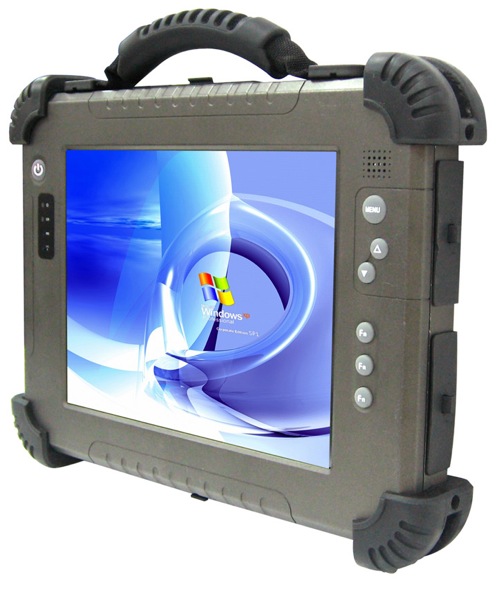 AIS Intel Atom Tablet PC Features and Benefits:
10.4″ LCD Industrial LCD Screen
MIL-STD 810F and IP54 compliance
IP54 Dust and Waterproof Rating
UL 60601-1 Medical Equipment Certified
High Performance, Low Power Intel Atom N270 1.6GHz with Intel 945 GSE Chipset + ICH7
1 x SODIMM, Max 2GB DDR2 400/533
Rugged Alum-Mg Alloy Housing Design with Protective Rubber for MIL-810F Shock, Vibration, and Drop Std.
Shock-mounted removable hard drive or Compact Flash
Sunlight readable display options
Integrated touch screens, and wireless networking
Versatile Mobile Communication Functions including WWAN (GPRS/GSM/CDMA/UMTS/EDGE) and optional GSP Modules
Wireless 801.1 b/g and Bluetooth Module
Ergonomic Portable Design with Handstrap and Carry Belt Accessories (optional)
6 Cell, 4800 mAh Lithium-Ion Battery Pack
About American Industrial Systems Inc.
AIS is a leading global designer and manufacturer of specialty rugged tablet pc, industrial panel pc, industrial display and digital signage solutions for customers in the industrial, commercial, public service, and medical markets. AIS specialize in designing and manufacturing cost-effective LCD and embedded computing products for the industrial market, as well as ODM/OEM applications worldwide. Whether your vision involves off-the-shelf displays or highly customized embedded computing solutions, AIS can supply the experience, technology, and resources you need to build it right and get you to market first.