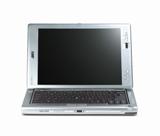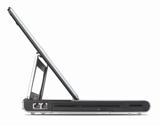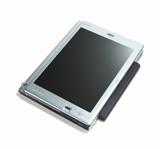 Acer's Newest Tablet PC Combines Notebook Features and Tablet Functionality With Extreme Mobility
SAN JOSE, Calif. – Acer America Corporation, one of the leading worldwide suppliers of IT solutions, today introduced a new generation of tablet PCs, the TravelMate C200 series. This brand new Acer Tablet PC sports a patented sliding-track mechanism for one-of-a-kind convertible notebook functionality. Featuring Intel Centrino™ mobile technology, the 12.1″ TravelMate C200 continues Acer's legacy of providing innovative Tablet and Notebook PCs to end-users who demand a combination of performance and functionality.
The TravelMate C200's innovative sliding mechanism allows for a one-motion conversion from Notebook mode to Tablet mode. The system can be easily converted from Tablet to PC mode by simply pushing the LCD module from its closed position to the upright location of a typical notebook PC. Thanks to its advanced ergonomics and its one-motion conversion process, the Acer TravelMate C200 Tablet PC creates the ultimate Tablet PC experience in mobile computing.
"The TravelMate C200 is a natural extension of our Tablet PC legacy which began with the very first convertible Tablet several years ago," said Maarten de Haas, vice president, Marketing and Product Management, Acer America. "Acer's view of the Tablet PCs is focused on the continued evolution which will bring Tablet functionality to the masses. The size and feature set of the TravelMate C200 will allow end-users to employ this newest Tablet as a mobile solution suitable for use in the boardroom or in the field."
Robust Performance, Small Size
The Acer TravelMate C200 series combines efficient computing and advanced technology. Based on the new Intel "Sonoma" platform that combines Intel Pentium M processor and the Mobile Intel 915PM/GM Express chipset, the TravelMate C200 series also features dual-channel system memory support — DDR2 533 MHz, 256/512MB scalable to 2GB — and a ATA/100 Hard Disk drive offers a storage capacity of up to 100GB. All models feature a slot loading DVD Dual double layer burner or DVD/CD-RW (tray) and a 4-in-1 card reader that supports Secure Digital (SD), MultiMediaCard (MMC), Memory Stick, and Memory Stick PRO™ standards.
The convertible Acer C200 Tablet PC sports a high contrast, widely viewable and tablet optimized 12.1″ XGA TFT LCD display managed either by NVIDIA GeForce™ Go 6200 graphics, PCI Express™ or through the integrated Intel Graphics Media Accelerator 900 with up to 128MB of shared memory.
Acer's brand new Tablet PC offers desktop PC versatility through the Acer ezDock, a PCI Express-based port replicator designed to accommodate up to 24 legacy and next-generation devices. What's more, the internal Acer MediaBay hot-swappable drives — a choice of second battery, DVD Dual double-layer or HDD up to 100GB — improve expandability and extensive storage. With the optional Acer MediaBay battery, the TravelMate C200 can reach up to 8 hours battery life.
For communication and connectivity the TravelMate C200 offers maximum flexibility through integrated Intel PRO/Wireless 2915ABG/2200BG network connection chipset featuring dual-band tri-mode IEEE 802.11a/b/g or 802.11b/g and an integrated Bluetooth module. In addition, the standard 10/100/1000 Mbps Fast Ethernet card and 56Kbps ITU V.92 fax modem provide instant connectivity options for home and office environments.
All models have a complete series of I/O ports, including three USB 2.0 ports, Fast infrared (FIR) port and a Firewire 1394 port.
The TravelMate C200 series also integrates the new Acer Soft Button, a software utility designed for Tablet PC users. Especially useful when an Acer convertible Tablet PC is in tablet mode and the launch buttons and hot keys cannot be easily reached, the Acer Soft Button provides rapid software launches, fast Internet and email access, easy system configuration and quick and effective adjustments to the connectivity options.
The TravelMate C200 series supports the new Windows XP Tablet PC Edition providing seamless integration for all Windows-based applications and others specifically developed for Tablet PCs, with pen and voice input.
Pricing
The Acer TravelMate C200 series is available through Acer authorized resellers throughout North America with prices starting at $1399.
Intel Pentium M Processor 760 (2MB L2 cache, 2.0GHz, 533MHz FSB)
Microsoft Windows XP Tablet PC Edition
1GB (512/512) DDR2 533 SDRAM
100GB hard drive
Modular DVD-Dual drive (DVD+/-RW)
NVIDIA GeForce Go 6200
Biometric Fingerprint ID
4-in-1 card reader for optional MultiMediaCard™, Secure Digital card, Memory Stick, or Memory Stick PRO™
One six-cell and one three-cell battery for 5+ run time hours
802.11b/g, WLAN, Gigabit LAN, V.92 Modem, Bluetooth
12.1″ XGA (1024 x 768)
Intel Celeron M Processor 370 (1MB L2 cache, 1.5GHz, 400MHz FSB)
Microsoft Windows XP Tablet PC Edition
512MB (512/0) DDR2 533 SDRAM
80GB hard drive
Modular CD-RW/DVD-ROM Combo Drive
Intel Graphics Media Accelerator 900
4-in-1 card reader for optional MultiMediaCard™, Secure Digital card, Memory Stick, or Memory Stick PRO™
802.11b/g, WLAN, Gigabit LAN, V.92 Modem, Bluetooth
12.1″ XGA (1024 x 768)