USB Turntable Inventor to Unveil Company, Radio Products
The future of commercial-free FM radio and easy-to-use Wi-Fi Internet radio will go live in Las Vegas during the 2009 International Consumer Electronics Show.
With two exciting new devices for music lovers looking to avoid lengthy instructions and operational hassles, USB turntable inventor Jake Sigal's own start-up company, Myine Electronics, LLC, will exhibit at the Sands booth 72610 at the CES Jan. 8-11, 2009 to introduce their exciting new Abbee Commercial Free FM Radio and Ira Wi-Fi Internet Radio products to the consumer electronics world.
Abbee
Myine's Abbee (patent pending) features Consumer Electronics Association award-winning Popcatcher technology designed to automatically record the music of the user's favorite FM stations. Abbee removes all of the commercials and DJ talk for hours of uninterrupted music, played over Abbee's built-in speakers, or virtually anywhere with the included portable music player, without the annoying interference of ads or DJs, or the cost of a subscription. Myine's Ira is designed to harness the universe of radio broadcasts available on the Internet and to allow user enjoyment anywhere a Wi-Fi connection; a speaker system and a power source are available.
Abbee Commercial-Free FM Radio is scheduled for a spring 2009 release at a suggested retail price of $249.99.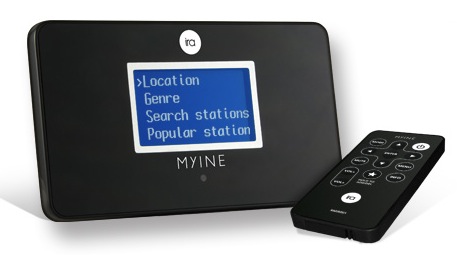 Ira
Ira Wi-Fi Internet Radio will be available on Jan. 8, 2009 http://www.myine.com/ for $129.99.