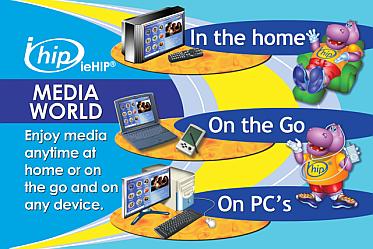 A5tek Corp. announces its plan to release to the global market during the first quarter of 2005 its latest home infotainment middleware solution–ieHIP Media World.
The company will also be demonstrating the capabilities of ieHIP Media World at the International Consumer Electronics Show 2005 in Las Vegas from January 6 to 9, 2005 and will welcome guests, visitors, and media representatives at booth LVCC SO 2 26825.
ieHIP Media World features a universal player, a patent-pending 1-2-3 menu navigation system, a digital content manager and organizer, home media server network capability, digital content security. It also boasts of a television user interface that allows consumers to access their multimedia contents with a remote control from ten feet away.
Top executives at A5tek expressed high hopes that ieHIP Media World's debut in the mainstream digital consumer market will be received with a warm welcome from end-users, as well as from OEMs, ODMs, VARs, and telecommunications companies.
Late in November 2004, A5tek signed an agreement with Decisionmark Corporation, which owns TitanTV.com, for integrating TitanTV's electronic program guide (EPG) into the ieHIP Media World system. TitanTV.com provides free, accurate, and easy-to-navigate television program listings on their website. The integration enables ieHIP Media World users to schedule and perform asynchronous recording of a broadcast.
In a bid to protect its intellectual property, A5tek also submitted this year its patent claim application to the World Intellectual Property Office (WIPO) after having been granted patent-pending status by the Intellectual Property Office of the Philippines. The WIPO covers selected countries in North America, Europe, and Asia.
For info, please contact:
Charlie Smaltz
VP for Marketing, A5tek Corp.
1398 Borregas Ave., Sunnyvale
CA 94089 USA
Phone: 408-752-0899 ext. 111
Fax: 408-752-0898
E-mail: info.us@a5tek.com
Website: www.a5tek.com