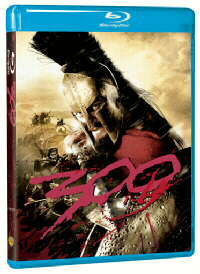 Warner Home Video Breaks Another High Definition Record With 300, the Fastest Selling Title With More Than 250K Copies Sold in its First Full Week
Today Warner Home Video (WHV) announced that it has the fastest and highest-selling high definition title in the market with the epic action-adventure, 300. Since July 31, 2007, 300 has sold more than 250,000 copies to consumers on HD DVD and Blu-ray Disc.
300 provides another high definition milestone for Warner Home Video which was the first studio to break the 100K sold mark with The Departed. Overall WHV has six of the top 10 selling high definition titles with 300, The Departed, Superman Returns, Planet Earth – The Complete Collection, Batman Begins, and Happy Feet. Warner also has the highest grossing high definition title with the dual-format release of Planet Earth.
"300 is an amazing film, and the high definition sales we are seeing underscores the positive business benefits of supporting both HD DVD and Blu-ray," said Ron Sanders, President of Warner Home Video. "This phenomenal response to 300 is the latest proof that our approach makes the most sense in today's market and has enabled Warner Home Video to continue to lead the market in high definition sales."
As a result of its dual format strategy, WHV has more than 30% market share of DVD sales in the high definition market, selling more high definition product and releasing more titles than any other studio. Because of two competing high definition formats in the market, it is widely recognized that hardware prices for both Blu-ray Disc and HD DVD have fallen faster than would normally be expected at this stage in the product cycle. However, research organizations, such as ABI Research*, predict that further price reductions of hardware are needed to fuel mass adoption of high definition formats.
Based on the stylized graphic novel from icon Frank Miller (Sin City), 300 is an epic action-adventure about the 300 Spartan warriors led by the heroic King Leonidas who challenged Xerxes and his massive Persian army at the ancient Battle of Thermopylae. Leveraging the capabilities that the high definition formats enable, 300 on HD DVD incorporates exclusives interactive features. Any HD DVD player connected to the internet can take advantage of the web enabled features, which include the ability for viewers to pick their favorite scenes to assemble montages and share them with friends. Users can also rate scenes within the Warner connected community as well as purchase and collect wall paper and ring tones for mobile phones. Both Blu-ray Disc and HD DVD formats include additional bonus material.
Warner Home Video HD DVD and Blu-ray Discs offer resolution six times higher than standard definition DVDs, as well as extraordinarily vibrant contrast and color and beautifully crisp sound. The new formats also provide a higher level of interactivity, with instant access to extra features via a seamless menu-bar where viewers can enjoy features without leaving or interrupting the film.
With operations in 90 international territories, Warner Home Video, a Warner Bros. Entertainment Company, commands the largest distribution infrastructure in the global video marketplace. Warner Home Video's film library is the largest of any studio, offering top quality new and vintage titles from the repertoires of Warner Bros. Pictures, Turner Entertainment, Castle Rock Entertainment, HBO Home Video and New Line Home Entertainment.
*ABI Research, January 2007, "There will be downward pressure on prices for players of all types: ABI Research believes that prices will have to drop below $200 before true mass adoption takes off."