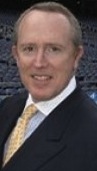 Photo: David Modell
Please introduce yourself and tell me your role in the 3ality Digital.
David Modell, Chairman, 3ality Digital.
What is 3ality Digital's business model?
We create, implement and license our world-class technology.
What movies, projects or events has 3ality Digital contributed or is currently working on?
3ality is a pioneer of modern, comfortable 3D both in the theater and in your home. We have been very lucky to have either directly produced or participated in the following:
U23D, producer, FIRST EVER live action full length feature film in modern 3D
NFL, producer, FIRST EVER LIVE broadcast of an NFL game in 3D (San Diego Chargers v. Oakland Raiders)
NHL, FIRST EVER LIVE broadcast of an entire NHL game (NY Rangers v. NY Islanders)
Is 3ality Digital focused on theatrical 3D releases, in-home 3D TV, or both?
3ality Digital is a technology development company. We focus on all enabling technologies to provide an elegant and robust end to end solution (from correctly capturing live 3D images to manipulating those images to transporting those images to the display of those images). Correct and comfortable 3D images is the imperative.
What distinguishes 3ality Digital from other 3D companies/technologies, e.g. RealD, IMAX 3D, or Dolby 3D?
Those mentioned are mostly critically involved in the display technologies used in theaters. 3ality Digital's technologies deliver the high quality 3D images for these fine companies technologies to display.
Should consumers care which 3D format is used? If yes, how can they tell the difference?
The modern formats are either a "passive glass" system or a "shuttered glass" system. A far cry from the old and painful red and blue glasses our parents and grandparents used to see 3D images. As long as the images and content being delivered is correct and comfortable, either modern system is very comfortable. Consumers will see both in the market and should visit their local retailers to "try them on". And, in any event, much is made about having to wear glasses. Overlooking the simple statistic that close to 165 million Americans wear glasses to see EVERYTHING, all the time, every day.
In general, how mature is 3D technology. Is it still evolving?
In many ways, the 3D industry is still in its infancy. That said, unlike other technologies that need to go through several versions to get the product "sweetened", 3D capture, transmission and display technologies needed to be alot closer to "spot-on" at the very outset. This is true as bad 3D will make the consumer uncomfortable. That said, yes, there is still plenty of room for continued technology development in the 3D space. Automation and miniaturization are two areas that come quickly to mind. 3ality Digital's excellent team of engineers look forward to the challenge of continuing to push the edge of the technological envelope.
What is your vision for the future of 3D?
On a professional level, I agree wholeheartedly with Jeffrey Katzenberg who believes 3D display makes sense as this is the way most humans see all the time. There are only two things most of us do not see in 3D, our entertainments on movie and TV screens – and our own faces (think about it…). We believe it is high time human beings see everything the way it was meant to be seen – in great 3D.
On a personal level, I think 3D capture and display has the opportunity to bring us closer as human beings. Display in 3D is SO REAL I wonder if it will modify emotional responses in viewers from sympathetic to empathetic? Imagine for a second a homeless and hungry Haitian child – not "appearing" on your tv, but appearing to sit on your lap. How will that change your response? Will that assist a call to action? This is my hope. We'll see.
What type of content is most enhanced by 3D?
As I mentioned earlier, we see everything in 3D. So, even though it is a very new technology, to see movie and TV content in 3D seems oddly very natural. So, I believe all content has potential to look more natural to the naked eye in 3D. That said, a 3D broadcast of a Black Eyed Peas concert (which we just did at the Staples Center in LA) will have more visual resonance than a 3D broadcast of the CBS Evening News with Katie Couric. And sports! – forget about it. There was a shot of a hockey player getting mashed into the boards that was directly in front our 3D camera… I swear I dodged. It was FANTASTIC. Wait 'til your readers experience that or a bone jarring hit in an NFL game. And, in this interview we have not even gotten into gaming… "Call of Duty" on your 60 inch 3D enabled Sony at home will certainly be interesting (!!!). Folks may never leave home…
What are the major challenges in bringing 3D TV content to the home?
Well, eCoustics needs to do some reviews of the fantastic 3D enabled TV's hitting the marketplace right now… I am sure eCoustics will give these TV's great ratings (the TV's REALLY cool) which will encourage your fine users to go and get in the game.
Seriously, the ability is there today to capture outstanding live 3D images (using 3ality Digital technology, naturally), to transmit that content over existing technologies (cable, satelite, internet – all methods can be used today with little muss or fuss) and view the 3D content on 3D enabled TVs (which you can get at Best Buy and others TODAY – so hurry!). More and more content is being produced natively in 3D, so there will be robust content selections to view. Or, you can just buy a 3D DVD of U23D (soon I hope) and watch it on a loop!