Nintendo is dropping the suggested retail price of its Nintendo DSi™ and Nintendo DSi XL™ video game systems. Effective Sept. 12, the new suggested retail price of the Nintendo DSi system will be $149.99, while the new suggested retail price for the Nintendo DSi XL system will be $169.99. The Nintendo DS™ Lite model will remain at a suggested retail price of $129.99. The new prices offer consumers tremendous value for their money while providing access to the best portable video game experiences possible.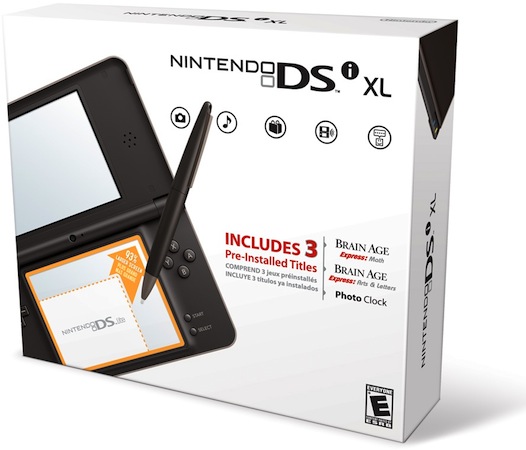 The Nintendo DSi and Nintendo DSi XL systems offer consumers access to more than 1,300 packaged games and more than 200 downloadable games. Both systems feature two built-in cameras and photo- and sound-manipulation software that provide for a more social experience. Users can wirelessly upload photos to Facebook with the touch of a button (wireless broadband Internet access required). The Nintendo DSi XL system, which features a screen that is 93 percent larger than that of the Nintendo DS Lite, comes pre-loaded with software like Brain Age™ Express: Math, Brain Age Express: Arts & Letters, Flipnote Studio™, Photo Clock and the Nintendo DSi Browser.
Recent and upcoming software releases for the Nintendo DS family of systems include DRAGON QUEST® IX: Sentinels of the Starry Skies™ (now available), Professor Layton and the Unwound Future™ (Sept. 12), Pokémon™ Ranger: Guardian Signs (Oct. 4), Art Academy™ (Oct. 25), Mario vs. Donkey Kong™: Mini-Land Mayhem! (Nov. 14) and Golden Sun™: Dark Dawn (Nov. 29).
"We know shoppers want to get the maximum value out of every dollar they spend. Our new Nintendo DSi prices make it easier than ever for consumers to access the tremendous variety of games, applications and social tools on the Nintendo DSi and Nintendo DSi XL systems."
— Cammie Dunaway, Nintendo of America's Executive Vice President of Sales & Marketing