Westfield San Francisco Centre – Century Theatres
San Francisco's newest movie theater in the new Westfield/Bloomingdale's shopping center goes "lights out" literally on it's third day after opening. At 8:20pm PT a power outage caused every movie to stop playing. All ticket holders were awarded a free pass to a future movie at any Century Theater, and were told to exit the building via emergency staircase exit 5 stories above street level. All customers left in an orderly fashion despite being left in limbo regarding the end of their respective movie. The Sunday night movie crowd couldn't have been more than a couple hundred. The movie, The Guardian, which I attended only had about 30 people filling a 300+ theater.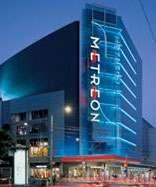 Movie Screens Aplenty
The new Century Theatre with 9 screens competes with the AMC Loews Metreon, which holds 15 screens including an IMAX theater, and is just a block down the street. The Century Theatre area was spotless and well organized with the concession area in a center island, flanked by a row of theaters on each side of the concessions. Both complexes provide stadium-style seating and charge $10 per adult ticket.
The Westfield Group purchased The Metreon complex in February 2006, according to Wikipedia. It will be interesting to see if Westfield revamps the Metreon complex, which includes two Sony stores and multiple restaurants.
Hidden Theaters
The Century Theatres are not clearly marked on the outside of the building, and are tucked into the fifth floor of San Francisco's newest and largest glitzy new shopping mall, which is anchored by the 2nd largest Bloomingdales store. Movie-goers should enter the Bloomingdales entrance on Mission Street between 4th and 5th Streets. Immediately upon entering, look to the left for a hallway of elevators. Then look above the elevators for the sign marked, "Century Theaters" and proceed to the 5th floor. Otherwise, if you decide to wonder through mall you'll have to weave your way through multiple escalators or staircases like Super Mario to reach the 5th level.
Where's the Beef?
Oddly enough, the mall food court is on the first level and the more up-scale restaurants are clear across the other side of mall on level 4. On a Sunday night at 7pm it appeared all restaurants were closed.
Picture Not-perfect
My first movie experience, power outage aside, did not live up to my high expectations for a new theater. Each movie complex generally tries to out-do the last, but I found the video and sound quality sub-par, while the screen could have been wider and bigger. To be fair, it's possible I attended one their smaller theaters, since it's common industry practice to offer theaters of varying sizes. But, one would think they'd show the newest action movie, The Guardian, in one of their best theaters.
What Year Is It?
The color scheme of Century chose was downright gaudy in my opinion — purple and turquois. I haven't been to another Century Theatre, so I am not sure if that is their standard color scheme. But, come on… it's not 1980. Had I not known this was a brand new theater, I wouldn't have guessed it had just opened. Nevertheless, the theater was very clean and it was nice to sit in a seat that hadn't been used thousands of times before.
Metreon Theater Prevails
In my opinion, Century Theatres in the San Francisco Centre bring nothing new or better for downtown San Francisco movie-goers. The Metreon theaters provide larger, wider screens, better sound, and the convenience of a food court, plus restaurants.
Brian Mitchell
Founder & CEO
eCoustics.com