By Andrew Eisner (Retrevo.com)
In case you're one of lucky ones to have gotten away without getting pulled over for not using a hands free device while calling and driving in California, New Jersey, New York and other states, now may be a good time to invest in a Bluetooth headset for your cell phone.
Handsfree Time
We've done some hands-on testing of the most popular new Bluetooth headsets and came to the conclusion that although none of these devices works flawlessly they work well enough to consider spending the $80 – $100 to make them part of your gadget collection.
Top Three Headsets
We singled out the BlueAnt Z9i, Aliph's Jawbone 2, and Plantronics' Discovery 925 because we consider them among the very best Bluetooth headsets on the market.
All three units had similar weaknesses; occasional pairing issues, audio glitches, and ergonomic difficulties. In other words, we feel Bluetooth headsets still have room for improvement. In general though, the out of the box experience was good, pairing worked most of the time although in some case we had to reset the headset to get everything set up just right for pairing to take place.
For the most part, call quality was quite adequate although some callers complained occasionally about the audio quality. One common complaint among our testers was that the auto pairing seemed to work sometimes and not others. One time your phone would answer with the headset connected and another with it off. Battery life was adequate for normal use and all three recharged pretty fast.
Although the less expensive headsets will do the job, we found these three headsets to be worth the few extra dollars you have to pay. You get better noise cancellation, better ergonomics, and better audio quality.
BlueAnt Z9i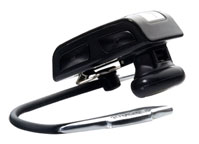 The Z9i was the lightest of the three, almost feather light. It was the one we noticed least hanging off our ears although you have to be careful to fit the earloop just right. The large multifunction button was easy to locate and easy to use although a problem with almost all phones we've tried is remembering which buttons do what. Quality of calls was very good although don't expect Jawbone caliber noise cancellation. You can buy the BlueAnt Z91 for around $70.
Aliph Jawbone 2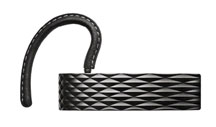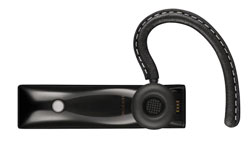 The Aliph Jawbone 2 is the second generation Jawbone. The first Jawbone was the hands down favorite among Bluetooth headset connoisseurs however the first thing most owners did was replace the earpiece with a Jabra molded ear piece. The Jawbone 2 is smaller, lighter, and feels better in your ear although you still know it's there unlike the BlueAnt Z9i which is so light you almost forget you're wearing it. The Jawbone 2 was still the winner for noise canceling audio quality but not by much. The Plantronics Discovery 925 comes in a close second for noise cancellation and if you're not going to be talking in a wind tunnel all three phones should be perfectly adequate. The Jawbone 2 will cost you a little over $100
Plantronics Discovery 925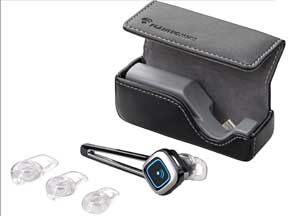 If you want to minimize the somewhat techie look that the Jawbone 2 adds then consider the stylish Plantronics Discovery 925. It almost looks like a piece of jewelry and therefore might be even more popular with women. It comes in colors too. The Discovery 925 feels very comfortable in your ear and doesn't require an earloop like the BlueAnt or Jawbone. Sound quality is excellent and the buttons are easy to use. The Plantronics Discovery 925 will cost you around $80.
Corded headset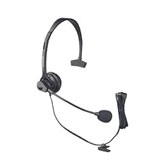 For the most consistent connectivity and call quality you can't beat a corded headset. Yes, the wire can get in your way but the mute button is easy to find and you can't beat the price at under $30 for a decent headset.
Bluetooth Car and Conference Phone

BlueAnt makes a reasonably price Bluetooth device called the Supertooth 3 handsfree speakerphone that mounts to your visor when used as a hands free car phone or it can sit on a table and be used as a conference phone. It costs around $80, has big easy to find buttons, and friendly voice commands for ease of use.