Loading, please wait...
Loiminchay Audio Speakers a Hit at 2008 CES
Thanks for Visiting; We'll See You Again Soon!
February 4th, 2008 — Loiminchay Audio, manufacturers of luxuriously-crafted, extreme performance limited-edition speakers for connoisseurs, introduced their startling product line at this year's CES. We want to take a moment to thank each and every one of you who came by and know we'll see you again soon!
Loiminchay Audio speakers are artisan-crafted from carefully shaped solid layers of Birch MultiPly laminate, bored out and finished inside and out with sixteen coats of the finest lacquer available for a unique and exceptional appearance and finish.
Loiminchay speakers are designed in New York by Loiminchay's owner Patrick Chu, and lovingly crafted in China. The dedicated teams in his atelier function together in harmonious workgroups, fusing the work of designers, engineers and craftspeople at the same location. Cabinetry takes up fully half the generous space with fine lacquering nearby. The electronics group is located close by the engineers and parts department; the wood-storage facility features temperature- and humidity-control systems. Everyone at Loiminchay Audio is a connoisseur in their field turning out gorgeous sounding, richly luxurious speakers.
Design
"Science and art are the inspiration for my speakers!" enthuses Patrick. "The science part is the basic design, choosing high quality drive units, internal wiring, capacitors and resistors, the lacquer finish and sculpted shape of the speakers and a solid aluminum base mounted on spikes. The art or harmonic elements might be thought of as choice of driver materials and crossover tuning.
"So don't you think the bass module of the Chagall looks like its pregnant? Actually its shape demonstrates how a guy like me who's made his name in luxury pens can also design a beautiful speaker. There aren't any secrets about how you do it, all the 'cookbooks' are out there for study. We go a few steps beyond with luxurious hand-built, hand-lacquered cabinets and really high-quality drivers. We buy wood by the batch, one lot makes five pair of speakers, and so they're all perfectly consistent, all hand-sanded and polished between coats. That's 16 times 2 equaling 32 separate operations!
"I originally designed the bass cabinet of the Chagall with the woofer close to the floor, the cabinet narrowing up towards the midrange and tweeter cabinet. Of course, the woofer was too close to the floor, reflections destroyed bass control. Then I had a brainstorm and reversed the module top-to-bottom and it worked! The Chagall now produces excellent bass for a medium-size speaker in a medium-sized room. Medium-size woofers, like our ceramic 8-inch driver (mounted on a 1-inch thick leather-wrapped concrete plinth), are the most coherent in small- to medium-size rooms; the spec on the driver goes down to 28Hz! Plus you don't want to overpower the room's dimensions. If you want to fill a large room, then it's time for a Kandinsky hybrid horn system!
"The 30mm (1.18-inch) diamond tweeter costs us a fortune, and the ceramic 173mm (6.8-inch) midrange driver doesn't come cheap either! We employ three people just to route the driver holes in the cabinet! Very tricky getting a perfectly cut hole so there's no air leakage. We spent almost two years getting it right! There are other speakers on the market using birch plywood–one very popular right now–but their drivers are let into MDF as it's so much easier to cut. And there's the leather-wrapped concrete plinth that supports the woofer on the Chagall. That too took lots of experimentation! But there's no magic pill, it all depends as always on calculations and design, then tuning each driver for what I call proportional sound.
"In my view, everything makes a difference in the sound. The shape and density of the cabinet and how the sound waves move around it, the quality and amount of lamb's wool it's stuffed with, and even which lacquer finish you choose changes the sound. The two-way Degas in black piano lacquer sounds slightly different than a Degas with a clear lacquer finish! Same with the Chagall. And that's why every pair's crossover is customized for proportional sound.
"The Nagra VPA amplifiers we used at CES are rated at 50 watts; maybe you send 7 watts to the tweeters, more to the midrange, and a bit more to the bass. Most energy goes to the woofer, of course. If you don't set it up right it will sound like a huge boom box with a muffled midrange and highs that will rip your ears off! And each driver responds differently to voltage depending on size, area behind the driver, driver 'Q', and other criteria. So by adjusting capacitors and resistors I experiment to get that proportional sound, the perfect balance between the drivers, the perfect blend of art and science!
Is the World Really Flat?
"I know, I know… how do they measure? Measurements are very important, but there's a great irony; many reviewers use classical music in their reviews, and that may include original instruments, in the best case, let's say a Stradivarius. No one was around to test that violin when it was made, but everyone knows it's musically just right!
"Artists express their own rational in their work. They are challenged, of course, as I expect to be, but that's okay. BMW doesn't make trucks, and Minis don't pretend to be big sedans, but each is just fine for its purpose! My ideal? Begin with careful measurement and end with listening tests to extract the fragrance of sound in motion.
"Because, really, have you ever heard a flat room? I just bought a microphone, a gorgeous Neumann U47. It sounds great, but it's sure not flat! You know, it's boosted a bit here and there, but not in an exaggerated way; it sounds terrific. If you use a digital crossover, get everything flat, then fine tune and optimize the room and take more measurements to make sure it's all flat, then there's only one problem… it sounds boring!
"So ideally we need a well balanced room, not one measuring flat. And you need a well-balanced speaker for that well balanced room! When you sit and listen to music, you put yourself within the speaker, so to speak. You're listening to the speaker and the room interactively. Since no one has a perfect room, even with acoustic treatments, we shoot for second best, a good overall balance. So I measure like crazy, and then make adjustments to make it sound right.
"My speakers do have rear-panel adjustments to compensate for thin or thick carpets, room size and reflectivity, plus overall sound. They cover 1 or 2dB plus or minus because in listening tests we found most listeners don't even hear a 1db change, with 1.5dB making subtle changes and 2dB changes making a discernable difference."
The custom diamond tweeter and ceramic midrange of the 2-way stand-mounted Degas reveals that fluency of harmony, balance and proportion that connoisseurs crave. The added sense of venue provided by the bass module of the 3-way Chagall allows a deeper, more expressive and engaging naturalness to develop. The breathtaking Kandinsky features a unique 19-inch wooden horn mated to 12-inch moving-coil bass driver for a simply incredible musical experience.
Loiminchay speakers rise to the emotional occasion each and every time you listen. Their exotic, sculptural shapes reveal an unheard-of level of build quality, complemented with the deep natural luster of clear lacquer, or a deep, rich piano lacquer finish. You may also order them custom-made in solid cherry.
Experience the Art of Performance with Loiminchay
"Art is not what you see, but what you make others see."
— Edgar Degas
It was said of Degas that his sheer energy, shimmering, nuanced movement, and flamboyantly layered coloring were seeking new means of expression. A detailed, rich, intimate viewpoint; you've just stumbled upon the scene.
The Degas
Loiminchay's lustrously-finished stand-mounted monitor featuring a MultiPly sand-filled stand with binding posts conveniently set near the base. The speaker is built up of 30mm/~1.2 inch MultiPly Laminate with sturdy internal bracing and carries top-quality lamb's wool filling. The stand is built up of 25mm/0.82-inch MultiPly and filled with sand on mounted on a solid-aluminum base-plate. The Degas delivers excellent bass down to 35Hz in moderate- to large-sized listening rooms of about 50 to 500 square feet.
The Degas features a 6.5-inch ceramic midrange driver and a sparkling 1″ diamond tweeter. Ordering the ceramic tweeter brings the response out to 27kHz, but ordering the recommended and entirely breathtaking diamond tweeter, response goes all the way out to 50kHz!
Either version of the Degas is easy to drive with 90db sensitivity at 8 ohms, and 100 watts of power handling. The Degas is single-wired with a silver wire internal harness with heavy-duty binding posts, and weighs about 90 lbs on its stand.
The Degas is available on order in beautiful MultiClear lacquer finish at $15,000/pr, and in a piano lacquer finish for $17,500/pr. The Degas equipped with the Diamond Tweeter is $30,000 in clear and $32,500 in piano lacquer finish. Adding the beautifully made and gorgeous stand, also made of MultiPly laminate, costs $22,000 or $26,500 in piano lacquer. The stand with diamond tweeter runs $37,000 in clear or $41,500 in piano lacquer.
"If I create from the heart, nearly everything works; if from the head, almost nothing."
— Marc Chagall
Marc Chagall's inventive, colorful dreams floated lightly in the air; "Supernatural" pronounced Appolinaire. His art was always simple and compact, form and color, light and dark, luminous shadings of grays and blacks. "My art is an extravagant art, a flaming vermilion, a blue soul flooding over my paintings."
The Chagall
The Chagall features a beautifully-engineered and luxuriously-turned-out bass cabinet built up of MultiPly Laminate, mounting an 8-inch woofer in a 1-inch thick concrete board plinth wrapped with high-quality leather for a remarkably steady, non-resonant driver platform. Inside the voluptuously-shaped cabinet is substantial bracing and premium lamb's wool. The Chagall extends down to 28Hz, and 27kHz at the top with the ceramic tweeter, or once again a remarkable 50kHz on the highly recommended diamond tweeter. The larger Chagall is rated at 87dB sensitivity with 150 watts of power handling. It's biwired-equipped with a silver internal harness, featuring an adjustable bass and midrange controls. Their size puts them in your living room at around 150 lbs.
The Chagall is available on order in beautiful MultiClear lacquer finish at $35,000/pr, and in a piano lacquer finish for $40,000/pr. The Chagall equipped with the Diamond Tweeter is $48,500 in clear, and $53,500 in piano lacquer finish.
"There is no must in art because art is free."
— Wassily Kandinsky
Kandinsky, a pioneer of abstraction, all colorful explosions and abstract forms longing for spiritual meaning. His visual language was all its own, filled with pure emotion, moving more deeply into abstraction and the inner self.
The Kandinsky
This exotic hybrid handles frequencies above 750Hz up to 27kHz with a gracefully-curved 19-inch wooden horn driven by a custom 2-inch beryllium high-compression driver. The bass unit carries a special 12-inch paper-doped woofer with carefully time-aligned crossovers. The 12-inch driver is mounted on a 1-inch concrete plinth covered with fine leather. The Kandinsky goes down to 30Hz with 90dB efficiency at 8 ohms and 200 watt power handling, featuring a biwired silver internal wiring harness.
The magnificent Kandinsky is available on order in beautiful MultiClear lacquer finish at $45,000/pr, and in a high gloss or matte piano lacquer finish for $51,500/pr. Ordering the Kandinsky custom-finished in solid cherry runs $75,000.
Loiminchay Build Qualities
The two-way Degas and three-way Chagall are ported moving-coil designs, their graceful hand-shaped cabinetry optimizing the port's function; sound waves move smoothly around the cabinets avoiding diffraction effects. Both models are built up of painstakingly sculpted layers of 30mm-thick Birch MultiPly Laminate. The interior space of each speaker is then machined out, the driver holes opened, and substantial bracing added, resulting in a tremendously non-resonant "driver support structure". The Kandinsky is a hybrid design mating moving-coil drivers with a wood horn.
After finishing, the exterior and interior of each cabinet is given a full sixteen coats of lacquer. Build quality exceeds anything you've seen before. Focus on the smoothly-sculpted shape of the baffle. It's not a mere add-on during manufacture, but rather shaped into the 30mm layers of Birch MultiPly Laminate as they're built up. The woodworking is superb.
Loiminchay speaker systems reproduce the precise and the passionate: Glenn Gould caressing his master's voice or Vladimir Horowitz in full expressive flight. Loiminchay will take you there, from extravagant flaming vermilion to pure abstract emotion.
Experience the Art of Performance Soon!
Patrick Chu,
President Loiminchay Audio
Loiminchay • 46-39 Parsons Boulevard, Flushing, NY 11355
212.941.7488 • loiminchay@gmail.com
www.loiminchayaudio.com Under Construction
For Reviews, Press Information and Photos Contact
Jonathan Scull • Scull Communications
jscull@scullcommunications.com
www.scullcommunications.com
212.807.0519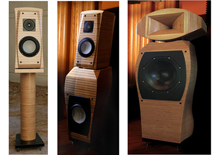 Where to Buy