The NHT Xd speaker system is unlike any other home theater system on the market. NHT has collaborated with DEQX and PowerPhysics to offer a digitally calibrated powered speaker system that alleviates sound quality issues when speakers must be placed in a corner or near a wall. The total package includes bi-amplified small speakers, digital amplifiers, digital signal processors, powered subwoofers, matching speaker stands, and all the cables needed to connect it all together.
All-in-one package
The NHT Xd is built to work together. You can't swap in or out other brands of speakers or amps. The system only works as whole, beginning with a 2.1 system (2 speakers, 1 sub, 1 amp) for stereo-only listening. Additional Xd amps, speakers and/or subwoofers can be added to meet any home theater environment. Our review system consisted of six XdS speakers with stands, two XdW subwoofers, and three XdA DSP/amplifiers forming NHT's "ultimate" 6.2 system.
Each XdS speaker is bi-amplified with 150 watts dedicated to the 5 1/4-inch mid-range, and another 150 watts dedicated to the 1-inch neodymium tweeter. Each XdW subwoofer has two 10-inch drivers powered by a 500-watt internal Class D amplifier.
Preamp needed
Everything is included except a surround sound processing preamplifier. NHT's Controller (MSRP: $2,750) is available for additional cost, but I used an Outlaw Audio 990 Preamp (MSRP: $ 1,099). However, any surround preamp or receiver with 6-channel pre-outs would work. Each XdA must be wired to the appropriate channel on the preamplifier using RCA or XLR cables (not included).
A DSP amp?
NHT's proprietary workhorse is the XdA. In one slim box it has a DEQX-calibrated DSP (digital signal processor) and PowerPhysics One-Cycle Sound Class D (4 x 150-watt) amplifiers. Each XdA powers two speakers, and connects to one or two XdW subwoofers. In simplistic terms it optimizes the signal before it's sent to each speaker. However, a technical explanation is available here.


Four speakers in one
Despite the complicated aspects of the XdA, it's quite easy to control. Its front panel amp has just one button to press for each speaker channel, which correlates the position of each speaker connected to it. The four options are:
Near a wall
In a corner
On top of a TV
Away from walls
Once set, you never have to touch the XdA again. Each speaker channel is set individually. They don't all have to be set to the same option. The XdA corrects the signals sent to each speaker based on the setting selected, essentially changing the sonic characteristics of each speaker. The point is, your system can still sound incredible even if any of your speakers have to be placed very close to a wall or on top of your TV. Although, ideally all speakers should be placed at least 2-3 feet away from any wall. The "speaker correction" processing allows greater compatibility with any room and provides more flexibility in speaker placement, which interior designers and spouses generally appreciate.
Filter improvements
In addition to selecting speaker locations to optimize speaker response, NHT offers additional software filters on its website that can be downloaded and transferred into the XdA via USB port manually. The filter sets the crossover point where the signal is split between the XdS and XdW. The default crossover point is set at 110Hz and loading a different filter can increase it to 135Hz. The process is simple, but inconvenient since the USB port is on the back panel of the XdA. Having tested both filters, I preferred the 135Hz filter as long as a XdW (sub) can be placed right next to a XdS speaker.
Preamp configuration
The most confusing part of the setup involves configuring the preamp. It's very important to set the main (left/right) speakers to "Large" and set the subwoofer to "None" or "Off". This may sound counter intuitive since the speakers are definitely small and you do want the subwoofer to work. The XdA does all of the processing and turns a XdS (speaker) and XdW (subwoofer) into a three-way speaker, despite being housed separately. Using the "Large" setting insures the XdA can process a full-range signal. If a sub is not connected to the XdA then the "Small" speaker setting should be used for that channel on the preamp.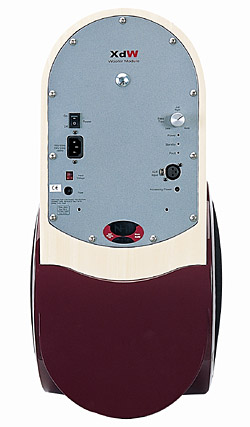 Subwoofer Placement
Once I confirmed all settings to be correct, you're left with one final variable — where to place each XdW subwoofer. Finding the best location for each subwoofer ended up being more time consuming than anticipated. After much trial and error, I discovered placing a XdW right next to any XdS speaker was better than the typical corner subwoofer placement. Getting the subwoofers placed correctly was very important and made a dramatic difference. It should be noted the XdW bass output is limited to 25Hz and above, so it doesn't play extremely low, couch shaking bass. I would have preferred deeper bass, but the XdW provided clean, detailed, and tight bass that was a welcome alternative.
Front and Back Subwoofers
Using two subwoofers allows the option to have either stereo subwoofers (one for each left and right speaker) or one for the front and back channels respectively. I found the latter was best for watching movies, and smoothing out bass response across the entire room. I ended up finally placing one XdW next to the left-front speaker near the front wall and the other next to the left-rear speaker near the side wall.
Power insensitive
Both the XdW and XdA had problems with their power saving auto on/off features. The trigger switch on the rear panel of the XdA is set to "Audio" by default, which is supposed to automatically power on/off the amplifiers whether or not it detects an input signal (sound). The XdW is set at the factory to auto power on/off. However, on multiple occasions any one of the XdA's or XdW's would shut themselves off, which occurred mostly while watching TV at low to moderate volume. Adding to the annoyance was a brief crackling noise heard through the speakers when the XdA first turns on. NHT said the turn-on noise was normal.
Power fix
Fortunately, both power settings can be overridden. On the XdA, simply set the rear panel switch to "On" (always-on) to prevent inadvertent shut-offs. Fixing the XdW's factory preset power setting involves a much more complicated process of unscrewing the rear panel to switch a jumper on a circuit board.
Upgradeability
The Xd system is limited by external component upgrades. However, the system is infinitely upgradeable via software firmware updates provided by NHT. During the course of this review, NHT released two firmware updates. All Xd systems ship with the original firmware of 106.4. Logistical reasons prevent NHT from upgrading every XdA to the current firmware version 107.9 before shipping. It would be advisable to check NHT's website for firmware updates. As NHT and DEQX engineers improve the software and digital processing, you'll gain free upgrades over time to future-proof your purchase.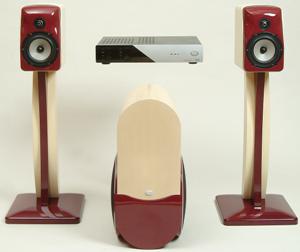 Fantastic design
Without a doubt the Xd system is one of the best looking systems I've come across. Each speaker and matching stand has a high gloss finish and exceptional build quality. Everything arrived in mint condition. The ebony and merlot (dark finish) is definitely the one to get. A light oak finish (shown above) is also available, but the dark finish is absolutely stunning. I have never had a speaker in my house receive so many compliments for its style, design and finish. For some reason the pictures online don't do them justice. Also, the fact that my wife loves the way they look could be reason enough to buy them.
Size it up
All of this beauty and technology comes at a price, and it's not cheap. The basic 2.1 system costs $6,000, and the 6.2 system will set you back $16,000. At these prices the competition is fierce, and a dollar to value analysis can be hard to justify. However, one should know every speaker design is about compromises — no matter what the price. NHT set out to build the ultimate home theater, using small speakers with the latest technology. After years of development the Xd system was born. In my opinion, NHT has succeeded in delivering an audiophile-grade home theater package with looks and sound that are unmatched for its size.
Brian Mitchell
Founder & CEO
eCoustics.com
Pros
Stellar design and build quality
Small speakers take up little space
Easy installation, color-coded cables included
Software upgradeability
Huge soundstage
Cutting-edge technology
Cons
Auto-power issues, but can be overridden
No bass below 25Hz
Where to buy the Xd system
NHT Xd 2.1 (dark finish) @ Onecall.com – $5,998.99
NHT Xd 2.1 (merlot finish) @ Onecall.com – $5,998.99
NHT XdS Speaker (Pair), Stands, and Cables (dark finish) @ Onecall.com – $1,498.99
NHT XdS Speaker (Each), Stand, and Cable (dark finish) @ Onecall.com – $748.99
NHT XdS Speaker (Each), Stand, and Cable (merlot finish) @ Onecall.com – $748.99
Need another opinion on the Xd system?
Lookup reviews here