ZTE Handsets – D90 Featuring Digit Wireless' Fastap and S900 Win the Red Dot Design Award
ZTE Corporation, a leading global provider of telecommunications equipment and network solutions, has been awarded the prestigious "Red Dot Product Design Award" for the soon-to-be-released, ZTE D90 and S900 mobile phones.
"We are proud that ZTE has won this award because it recognizes the design capability of Chinese mobile manufacturers," said Chen Cuifeng, the designer of ZTE D-Series.
The Red Dot has been awarded by the German design association "Design Zentrum Nordrhein Westfalen" in Germany to honour outstanding international product design since 1955. This marks the first time that a Chinese mobile phone manufacturer has been awarded the honour. Today's distinction follows ZTE's receipt last year of the prestigious iF Award for its Snow Lava, GamSIR, and King handsets. The S900 was also the top winner of the "iF China Award" in 2006, making it a two-time title winner.
The ZTE D90 featuring Fastap will offer a superior user experience for messaging and 3G mobile data services by combining the simple, intuitive and innovative Fastap keypad and the eZiType word completion engine on an elegant, slim flip phone.
The ZTE D90 features the Fastap keypad, which is the first keypad in the world to integrate a full one-tap alphanumeric keypad on a mainstream flip phone. With letter and punctuation keys surrounding the standard numeric keypad it is powered by an error-prevention software for care-free operation of the phone. Fastap enables the design of the ZTE D-90 to strike the perfect balance of style, form, functionality and ergonomics.
Additionally, the ZTE D90 will incorporate a new, specially-designed backlight Fastap keypad with semi-transparent key labels to make the D90 keypad look like a standard keypad at first glance, creating a sleek appearance – when in use, the letter keys instantly light up, highlighting the functionality of the Fastap keypad.
With intuitive Fastap 'hot keys', the ZTE D90 enables one-click access to many mobile data services, applications or contacts right from the idle screen. The user is able to easily personalize the Fastap 'hot keys' to their favorite applications or contacts. For example, users can press & hold 'M' for Messaging.
Typing messages is made even quicker and more accurate with the Zi Corporation's eZiType word completion and correction software. The ZTE D90 is the first mobile phone in the world to feature Zi's eZiType engine, which features intelligent, practical word completion, along with next word and phrase prediction. The auto-correction feature reduces typical errors by correcting duplicated letters, missing letters or punctuation marks, switched letters (e.g. ht versus th), wrong letters (i.e. adjacent key) and mistyped words. To make typing faster, the ZTE D90 is capable of automatically adding words, names and slang to its internal memory based on usage.
Designed for use on EVDO networks, the ZTE D90 can support access to an array of advanced voice, data and multimedia applications including full track music downloads, video downloads, location-based-services and messaging services including email, IM, text messaging and multimedia messaging.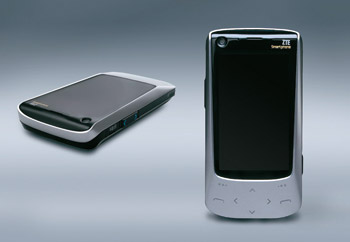 S900
Also recognized for its innovative design, the award-winning S900 uses an extremely simple design that employs touchpad and sensing key technologies. Without any keys on the front panel, this phone is characterized by smooth configuration and simplified outlines. The long-strip background lighting of the handset can help users to distinguish between phone calls and e-mails. Simplified external configuration and practical details represent the perfect interpretation of the aesthetic principle "Less Is More."
ZTE has been awarded over 871 mobile-related patents. ZTE works closely with tier-one operators around the world and has supplied top-end 3G products to operators in North America, Italy and the U.K.
About ZTE
ZTE is a leading global provider of telecommunications equipment and network solutions. The ZTE product range is the most complete in the world – covering virtually every sector of the wireline, wireless and handset markets. The company delivers innovative, custom-made products and services to customers in more than 100 countries, helping them to achieve continued revenue growth and to shape the future of the world's communications. ZTE commits around 10% of annual turnover to research and development and takes a leading role in a wide range of international bodies developing emerging telecoms standards. It is the fastest-growing telecoms equipment company in the world, and is China's only listed telecoms manufacturer, with shares publicly traded on both the Hong Kong and Shenzhen Stock Exchanges. ZTE was the only Chinese IT and telecoms manufacturer listed in BusinessWeek 2005's Information Technology 100 and was included in its 2006 ranking of China's Top 20 brands.
About Digit Wireless
Digit Wireless, the pioneer and innovator of the patented Fastap™ keypad technology, is dedicated to enhancing the usability of mobile devices, making mobile life simple. The company is working with the world's Device Manufacturers and Mobile Operators on licensing Fastap technology to enhance functionality on any mobile device, increasing discovery, access and usability of today's voice and data services. Digit Wireless is headquartered in Burlingtion, MA. and has offices in Beijing, Hong Kong, London and Seoul. For more information, please visit the company Web site at http://www.digitwireless.com or http://www.fastap.net.
About Fastap
Fastap keypad technology is a patented innovative approach to keypad design that creates simple-to-use devices that enable easier discovery, access and usage of wireless data, messaging and voice services. Fastap maintains the voice-centric functionality that customers expect while delivering enhanced functionality on any size phone. Utilizing raised and lowered keys, powered by error prevention software, Fastap enables simple-to-use keypads designed for the applications of today. Fastap's Global Language Platform empowers device manufacturers to offer a dual-level language keypad in over 90 languages. Device Manufacturers and Mobile Operators will benefit from greater revenue and increased profitability.