Latest Digital Sound Projectors Offer HDMI, Video Upscaling, iPod Compatibility, FM Tuner and Advanced Listening Settings
Three New Models Enhance Market-Leading Single Component Surround Sound Solutions; New Entry-Level YAS-70 Features Exclusive Air Surround™ Technology
Yamaha, the innovator in home theater and digital audio and video reproduction, today unveiled the YSP-4000, YSP-3000 and the YSP-900 Digital Sound Projectors, each of which provides true multi-channel surround sound from a single component that can easily be installed underneath a flat-panel television. All of these units provide true surround sound performance by focusing audio signals into precisely controlled and directed "beams" that keep consumers from having to install numerous speakers throughout a room. Members of the press are invited to experience the new systems at CEDIA 2007 in Denver, Colorado, at Yamaha's booth (#450), between September 5 and 9.
The top-of-the-line YSP-4000 sets a new standard in single component surround sound and home theater installation capabilities. It features 40 beam drivers, two built-in subwoofers, 42 corresponding digital amplifiers, seven Cinema DSP programs (three movie, three music and one sports), analog to HDMI video upscaling, high definition video upscaling to 1080i/720p and advanced custom installation compatibility. The YSP-3000 and YSP-900 both feature 21 built-in beam drivers and two built-in woofers, with 23 corresponding digital amplifiers and three Cinema DSP modes, but the YSP-3000 also includes a 1080p (24Hz and 60Hz) compatible HDMI interface with two inputs and one output to facilitate pure digital connections with the latest home theater components.

The YSP-4000 and YSP-3000 are fully XM Satellite Radio ready with XM HD surround sound powered by Neural Surround. An integrated FM tuner further broadens the user's entertainment choices. The YSP-4000 and YSP-3000 also offer iPod compatibility via the optional YDS-10 dock. Once docked, the iPod can be operated (song selection, play, etc.) via the YSP's remote control and on-screen display. Yamaha's proprietary Compressed Music Enhancer technology compensates for the lost detail of audio that is compressed during the "ripping" process, recapturing the essence of the original recording.
All three models create a wider soundstage than previous Digital Sound Projectors, to fill the whole room with convincing surround sound regardless of where listeners are seated. The YSP-4000 and YSP-3000 offer two all-new modes: 5-Channel Stereo and My Surround. To accommodate even the most difficult installation environments where walls may not be present or are covered with unsuitable materials, My Surround mode provides surround sound without needing to reflect the beams off walls.
Each model offers additional sound settings, including 5-Beam Mode, 3-Beam Mode, Stereo+3-Beam Mode, Stereo Mode and My Beam Mode, which allows users to focus sound to a specific position in the room to avoid disturbing others. Yamaha's proprietary IntelliBeam™ automated system calibration enables users to quickly and easily set up each system for the optimal listening experience and intuitive, multi-language on-screen displays.
All three systems offer full support for surround sound standards, including Dolby Digital, DTS, Dolby Pro Logic II and DTS Neo:6. Each also features Yamaha CINEMA DSP technology to create realistic soundscapes in any room. For late night movie and music enjoyment, a Night Listening Enhancer mode that allows dialog and quiet passages to be heard clearly, even at low volumes. Moreover, a TV Equal Volume mode prevents sudden bursts of sound from TV programs and commercials.

All three of the new models feature SRS TruBass technology to provide exceptionally deep and rich bass response, and a subwoofer output to accommodate one of Yamaha's new slim design subwoofers (YST-FSW150 and YST-FSW50) for clean, rich bass reproduction.
The YSP-4000 ($1,799.95 MSRP) will be available in October and the YSP-3000 ($1,199.95 MSRP) and YSP-900 ($899.95 MSRP) will be available in August. The SPM-K30, a new YSP bracket which is adjustable for use with all three models, will also be available in August for $79.95 MSRP. For wall-mounting applications, an optional 15-foot cable (YDS-CBL15) for the Yamaha YDS-10 iPod dock will also be available for $49.95 MSRP.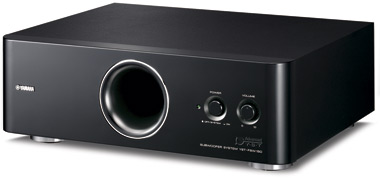 Slim Subwoofers Offer Ideal Complement to YSP Models
Yamaha is also debuting two new subwoofers, the YST-FSW150 (130w; $279.95 MSRP) and YST-FSW050 (100w; $199.95 MSRP), with slim, rack-mountable, down-firing active designs that work perfectly to give its new YSP systems extra low-end audio presence. The YST-FSW150 and YST-FSW050 both have minimal heights of 5-15/16-inches and 6-7/16-inches, respectively, that make them ideal for rooms and installations with space limitations. They both feature the company's latest proprietary Yamaha Active Servo Technology II (YST II), which provides extremely stable performance and high sound pressure levels that result in natural and energetic bass reproduction and linear ports for minimizing extraneous noise.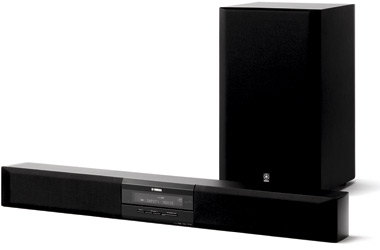 YAS-70: Moderately Priced, Space-Conscious Solution for Home Theater Sound
Yamaha also introduces the affordable YAS-70, featuring exclusive Air Surround technology. The YAS-70 system affordably delivers multi-channel listening experiences through direct and reflected sound. The YAS-70 utilizes Yamaha's exclusive Air Surround technology to provide 5.1-channel surround sound from just two units: a front surround module and an active subwoofer. The slim front surround module can be mounted underneath any flat-panel display or placed on a shelf without disturbing room aesthetics. Although the YAS-70 system is primarily recommended for smaller rooms, it can be effectively used in larger rooms as well.
An amplifier that resides in the subwoofer provides 35 watts to each of the front surround unit's six built-in beam drivers, and has 100 watts on tap to power the sub's direct-firing driver. Yamaha's YST technology ensures deep bass by combining negative-impedance and consistent-current principles to drive the subwoofer cone with remarkably precise control.
Other highlights include iPod compatibility via the optional YDS-10 dock, one-touch CINEMA DSP selection, night listening mode and a built-in FM tuner. The YAS-70 is fully compatible with Dolby Digital, DTS and Dolby Pro Logic II to provide surround sound from all sources.
The YAS-70 will be available in October for a suggested retail price of $599.95. For wall-mounting applications, an optional 15-foot cable (YDS-CBL15) for the Yamaha YDS-10 iPod dock will also be available for $49.95 MSRP.
About Yamaha
Yamaha Electronics Corporation (YEC), USA, based in Buena Park, California, is a wholly owned subsidiary of Yamaha. YEC offers Home Theater components and systems, featuring A/V Receivers, Amplifiers, DVD/CD, Speakers, Mini-Systems, Video Projection, as well as A/V & IT Convergence Products.