Utilizes Proprietary yAired Technology, Remote Transmitter in Convenient iPhone/iPod Audio System
Yamaha Electronics Corporation introduced the PDX-60 wireless iPhone/iPod dock featuring the company's proprietary yAired technology. The PDX-60 allows users to take out the ear buds and share their favorite music, video and games with friends via a wireless transmitter that connects to the portable devices and sends superior uncompressed audio content across the room for high-fidelity playback on the dock's speakers. The system adds remote control capability to iPhones and iPods so users maintain direct access and control of what they want to hear. The dock also automatically powers on and off with yAired-enabled iPhones/iPods.
In addition to seamless wireless convenience, yAired technology offers key advantages over Bluetooth, including superior sound quality via uncompressed linear PCM audio transmission and no audio delay issues when watching video or playing games.

The PDX-60's high sound quality is delivered by a Yamaha digital amplifier with extremely low noise distortion. Two large 3 1/4-inch speakers provide dynamic bass response for powerful, clean sound from iPod and iPhone music libraries.
The PDX-60 is compact enough to be placed just about anywhere, or easily carried from room to room. Users also have the options to listen to their iPods and iPhones when charging them via the docking station at the top of the unit or on the supplied yAired cradle. The model also offers a card-type remote control for operating docked devices.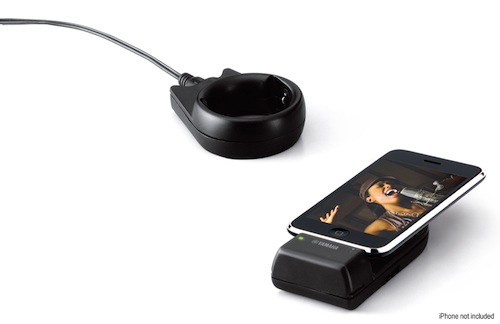 Specific models supported by the PDX-60 include iPhone 3G, iPhone 3GS, iPhone, iPod Touch, iPod classic, iPod nano and iPod (5th generation).
The Yamaha PDX-60 is available in black, blue, gray and pink for MRP $299.95.