Warpia announced the ConnectHD (model SWP400VC), a wireless video conferencing and media streaming solution from a PC to any HDTV. With its advanced wide-angle wireless HD video camera and multidirectional microphone, it can also be used to make video calls in the comfort of your living room. It also provides users with an easy way to stream content wirelessly from any laptop computer to an HDTV without limitation. The ConnectHD can be used for additional entertainment such as playing PC Webcam games, watching movies and any online content on your large screen HDTV with the entire family.
The ConnectHD with HD video and stereo audio enables users to stream any content from their notebook or PC wirelessly to an HDTV in 1080p full high definition. Content such as streaming video, pictures, movies, presentations, Facebook, Twitter and other applications can be shown on your HDTV in the room without the hassle and clutter of wires while you continue to use your laptop screen to surf the web, check email, and more.
Make Video Conference calls on your HDTV
Make and receive video teleconference calls with the built in wide angle MJPEG HD webcam and high quality external microphone from your living room using any Video Conferencing applications including Skype or MSN Messenger.
View Internet and Laptop Content Wirelessly on your HDTV
Stream any type of media wirelessly from your PC* to any HDTV**, including movies, pictures and online content, all in HD quality.
Play on your HDTV
Playing PC Webcam games in front of a large HDTV enhances the gaming experience and transfers game play from the desk to the living room for a more enjoyable experience.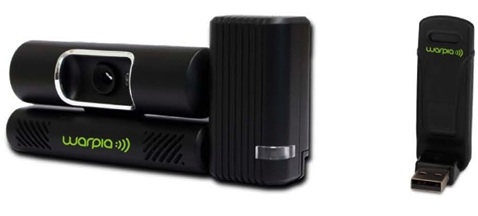 Features
720p wide angle wireless webcam for videoconferencing from your HDTV
Wireless media streaming in up to 1080p from notebook or PC to any flat screen TV
HDMI output to TV with audio & video support
Multidirectional microphone with automatic gain control picks up voices throughout the room for clear sound during video teleconferencing
Same room coverage, up to 30ft line of site range between PC & TV
Up to (1920×1080) resolution
48 kHz, 16-bit Stereo or surround sound
Quick setup with pre-associated (paired) adapters
Fully standardized solution (Wireless USB from the USB-IF)
Worldwide regulations compliance
Windows 7/ Vista SP2/ XP 32-bit SP3
Price and Availability
The ConnectHD includes a wireless USB PC adapter, a wireless USB TV adapter with HDMI (Audio and Video) and camera, external microphone, a HDMI cable and a CD with easy to install software for $199.99.
* Notebook PC must have USB 2.0 port and a minimum of 1.8 GHz, Core 2 Duo processor and 1 GB memory
** HDTV must have built in HDMI port