The First Multi-Button Application Mouse
WarMouse announced the release of the OpenOfficeMouse, the first multi-button application mouse designed for a wide variety of software applications, including Adobe Photoshop, Autodesk AutoCAD, Microsoft Office, and OpenOffice.org 3.1. With a revolutionary and patented design featuring 18 buttons, an analog joystick, and support for as many as 52 key commands, the OpenOfficeMouse is intended to provide a faster and more efficient user interface for most complex software applications than the conventional icons, pull-down menus, and hotkeys presently permit.
The OpenOfficeMouse includes default profiles for the five core OpenOffice.org applications based on 662 million datapoints compiled by the usage tracking facility incorporated into OpenOffice.org 3.1. These profiles can be easily customized to suit the user's preferences using the included OpenOfficeMouse setup software. The setup and customization software is an application that will be released as an open source software project under the GNU Lesser General Public License version 3 in the first quarter of 2010. Default profiles for 20 other games and applications are also included; the OpenOffice Mouse supports up to 63 profiles to be stored simultaneously in the mouse's memory.
The OpenOfficeMouse is one of the first computer mice to incorporate an analog joystick and the first to permit the use of the joystick as a keyboard. In the three joystick-as-keyboard modes, the user can assign up to sixteen different keys or macros to the joystick, which provides for easy movement regardless of whether the user is flying through the cells of a large spreadsheet in Microsoft Excel or on the back of an epic flying mount in World of Warcraft.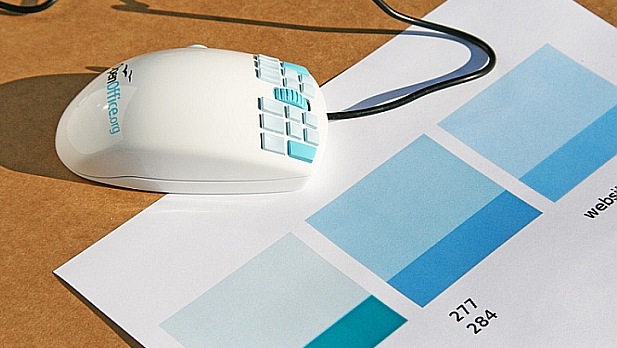 The features of the OpenOfficeMouse include:
18 programmable mouse buttons with double-click functionality
Three different button modes: Key, Keypress, and Macro
Analog Xbox 360-style joystick with optional 4, 8, and 16-key command modes
Clickable scroll wheel
512k of flash memory
63 on-mouse application profiles with hardware, software, and autoswitching capability * 1024-character macro support.
Open source support software for creating, managing, and customizing application profiles
Import and export of custom profiles in XML format
Optional audio notification of profile switching with customizable wave files
PDF export of profile button assignments
Adjustable resolution from 400 to 1,600 CPI
20 default profiles for popular games and applications, including OpenOffice.org 3.1, Adobe Photoshop, the Gnu Image Manipulation Program, World of Warcraft, and the Call of Duty series.
John McCreesh, Marketing Project Lead at OpenOffice.org, welcomed the announcement: "The OpenOffice Mouse is a really cool addition to the desk of any keen OpenOffice.org user. The Mouse team have worked closely with experts from the OpenOffice.org User Experience project to deliver the full benefits of the world's leading open-source office software to the fingertips of users. The prototypes are stunning — I can't wait to get my hands on the finished product."
"You can do far more with this mouse than most people are likely to realize at first," said mouse designer Theodore Beale. "You can launch applications from the desktop, and in your browser you can fire up a specific Internet site with one button, then close it with a double-click on the same button. In Writer and Calc, you can have your most powerful and complicated macros on one row of buttons and simple functions like Bold, Undo, and Format Cell on another. It's very useful in games like World of Warcraft, because even without taking the joystick into account, you've got 16 commands within one click, 40 within two, and all 72 icons on the six action pages within just two double-clicks or less."
The OpenOfficeMouse supports Windows, Linux, and Macintosh operating systems and will retail for $74.99.