Design, ergonomics and natural feel deliver premium writing and sketching experience to iPad users
Wacom introduced Bamboo Stylus, a new input device created specifically for use with the Apple iPad. Bamboo Stylus offers an intuitive and natural way to experience note-taking, sketching, drawing, and other forms of creative expression on the iPad.
The authentic and satisfying feel of the Bamboo Stylus is achieved through subtle design elements, such as a sophisticated black and silver design with satin-textured metal body and balanced weighting. The tip of the stylus is 25 percent narrower (6mm vs. 8mm) in diameter than some of the other most popular solutions on the market today. Combining ergonomic comfort and a firmer feel, the Bamboo Stylus offers a premium digital inking experience for handwriting notes, highlighting text, editing documents, drawing, sketching and much more.
While touch is the primary input method for the iPad, the stylus has definitely found its place among users, enriching the way they interact with the iPad. The additional functionality of the Bamboo Stylus brings a more accurate and precise way to take notes in meetings and classroom settings, or to sketch out rough ideas while on the go. For example, users can improve their input experience with numerous applications developed for iPad, such as Penultimate for note-taking and Autodesk SketchBook Mobile for sketching needs.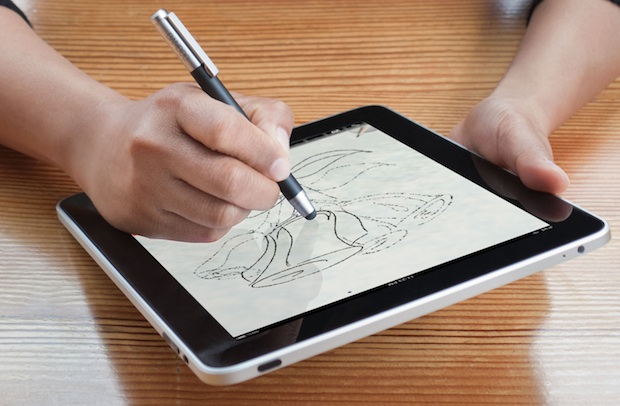 "The stylus can perform creative tasks that our fingers
and touch displays are just not built to handle well.
Users will find that the new Bamboo Stylus provides the
accurate pointing and inking requirements they need to
supplement touch input."
— Rick Peterson, Director of Consumer Brands at Wacom
Bamboo Stylus Availability and Pricing
Bamboo Stylus ($29.99 USD) is expected to be available in mid-May at many national consumer electronic retail outlets. Online shoppers will be able to find Bamboo Stylus at Amazon or at Wacom's online store.
Reviews Around the Web:

wacom bamboo stylus
<!-comments-button-->