Prioritizes high definition video to Internet connected HDTVs and Blu-ray players; optimized for VIZIO Internet Apps (VIA) for seamless web to TV content retrieval and enjoyment
Simultaneous dual-band 802.11n wireless router uses both 2.4 GHz and 5 GHz bands to maximize speed and range across all types of media and data
VIZIO announced today the introduction of a wireless Internet router optimized for VIZIO Internet Apps (VIA), the platform that enables viewers to experience the best of the web and on-demand content, as well as three wireless Blu-ray players with Internet Apps, that offer consumers even more entertainment on demand, such as streaming HD movies, TV episodes, music, photos and social networking. The XWR100 Dual-Band HD Wireless Internet Router prioritizes HD video and audio to VIA HDTVs and Blu-ray players, such as VIA-enabled VBR200W, VBR210, VBR220 and VBR231 Blu-ray players that are capable of streaming content from online services such as VUDU, Netflix and Pandora. The universal wireless router can also be configured to prioritize traffic to other Internet-connected devices as well as share a high-speed Internet connection to other Internet capable devices in the home, such as laptops, game consoles and smart phones.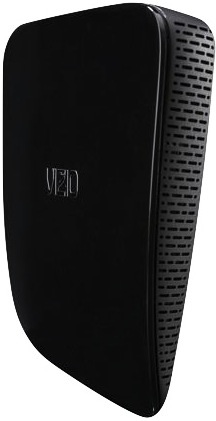 "Customers want a simple high quality experience when they stream entertainment content to their home theater system. VIZIO Internet Apps enables these freedoms by focusing on Wireless connectivity — our new High definition Wireless Internet Router and Dual Band High Definition Blu-ray players are the perfect complement," said Laynie Newsome, VIZIO Chief Sales Officer and Co-founder. "Consumers want to stream high definition videos and high quality audio from the Internet and VIZIO has designed a simple easy to use experience."
The XWR100 802.11n dual-band wireless Internet router makes streaming HD media its highest priority, resulting in performance superior to conventional routers. VIZIO QoS (Quality of Sound) technology produces superior HD streaming by intelligently prioritizing Internet traffic to VIA-enabled devices for the best viewing experience with fewer delays in loading times, especially when watching HD movies. By operating at both 2.4 and 5 GHz at the same time, it can also make use of the less crowded 5 GHz band for the most time-sensitive traffic, such as HD video streams, music and games, further enhancing the user's experience through maximum range and speed and minimized interruptions and re-buffering.
Setup of the router is easy and quick through an intuitive user interface and intelligence built into the router to detect Internet connection status. In addition to other standard wireless security protocols, the Wi-Fi Protected Setup (WPS) capability makes the secure addition of new devices as simple as the push of a button.
The router also sports a USB 2.0 port to connect a USB hard drive for shared access to personal photos, videos and more.
In addition to its wireless capability, four standard Ethernet ports are provided for wired connections to Internet capable devices. The router can be wall mounted, and its sleek and elegant design brings a high-tech look to any home or work setting. Compatible with both Mac and PC systems, the XWR100 is available in Q3 at an MSRP of $99.99.