The Sunday Telegraph described Vita Audio's first generation R1 as "the Aston Martin of DAB radios". This statement succinctly describes the philosophy at Vita Audio. The company's goal is to design and build the best compact music systems available. Its principles are high performance and beautifully crafted design, so that all Vita Audio products look and sound sublime.
Rather than emulating the look of other radios, its aim is to create a style that makes products instantly recognisable. With the introduction of the new R1, the essence of the original design remains unchanged. However, with improvements in all key areas, the company has created a successor, which is enhanced and even more desirable.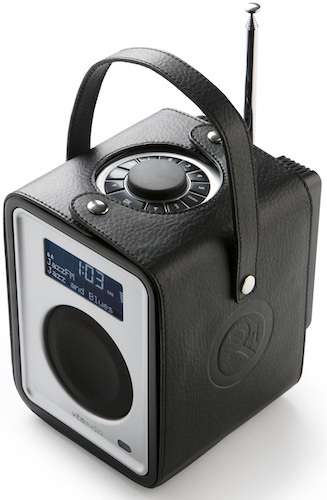 Foremost among these changes is an increase in power output allied to a whole host of other audio circuit enhancements. The original R1 was frequently described as the best sounding DAB radio around and Vita Audio believes the new model is further enhanced!
Equally important is the introduction of the 'BackPack' and 'CarryPack'. MP3 players and mobile phones have undoubtedly killed off the traditional 'transistor radio' as we know it, nevertheless, Vita Audio's research shows many customers still hanker after a radio that can be carried and enjoyed where mains power is not available. As always Vita Audio has not followed convention! Placing batteries inside a radio steals valuable volume, which often results in thin and unsatisfactory sound. To overcome this the company has designed an optional rechargeable NiMH power pack, which attaches and integrates onto the back panel of the new R1. Called 'BackPack' this stylish device provides power for many hours of wireless listening and can be left permanently connected, as the power supply that comes with R1 acts as its day-to-day charger. Also adding to the new R1's appeal, Vita Audio has designed a complimentary case produced from hand stitched leather to protect and aid portability. CarryPack brings an unabashed retro inspired feel to R1 and further enhances its looks and tactility.
As you would expect with Vita Audio's long audio heritage, sound quality is exceptional, but with separate bass and treble controls along with a loudness option, users can now adjust the tonal balance to suit their taste. For customers who want to use the new R1 as a bedside radio, there is now a dual alarm, which allows for once, daily, weekday and weekend settings. And the alarm volume can be adjusted to the required level, depending on whether you're a light or heavy sleeper. Also available is an adjustable sleep and snooze timer.
Time and programme information are clearly shown through a high contrast large format display, which adjusts its backlight level to suit the ambient light in the room. In addition Vita Audio has also provided custom settings, so the backlight will 'timeout' and turn off if required.
On the rear panel there is an output for headphones along with an audio output for recording or to connect R1 as tuner to a hi-fi system. The supplied telescopic aerial is removable, so the new R1 can be hooked up to an external aerial for optimum reception if required. Also included is a switchable auxiliary input allowing other audio devices such as an iPod to be played-back and enjoyed with R1's rich and detailed sound.
With the new R1, Vita Audio has created a radio that is desirable and has few peers. Together with BackPack and CarryPack the R1 is a highly unique package and freed from its mains connection, customers can enjoy its rich, engaging sound wherever they may be.
R1 MkII Features
Superb sound quality
DAB, DAB+ and FM Tuner with RDS (Radio Data System)
10 Station Presets
Switchable auxiliary input for MP3 and other audio devices
9 watts nominal power output
3.5″ custom high-fidelity drive unit
Exclusive RotoDial control with soft illumination
High contrast display with large format 'easy to read' clock
Adjustable tone settings
Stereo headphone output
Easy-to-use comprehensive clock and alarm functions
Available in: Rich Walnut veneer, Dream White and Midnight Black high gloss
lacquers
Available CarryPack finishes: Black and Tan grained leather
Dimensions: H170 x W130 x D135mm
Weight: 1.5 Kg
Pricing, availability and stockists:
The Vita Audio R1 MkII (£159.99 veneer/£179.99 gloss lacquers), BackPack (£49.99) and CarryPack (£39.99) will be available from late June at select stockists including John Lewis, Selfridges, Harrods, House of Fraser, The Conran Shop and a range of quality specialist audio and design stores. Full details can be found on Vita Audio's website.
Availability Update (May 2011)
A new limited edition yellow model is available at Selfridges.
About Vita Audio
Founded by Alan O'Rourke and Neil Adams, Vita Audio's origins lie in a desire to build the very best compact audio products. A lifelong music and audio enthusiast, Alan has been working within the British audio industry for nearly three decades. In 1986 together with his father Brian (himself a gifted craftsman) he formed Ruark Acoustics with the aim to develop high fidelity loudspeaker systems. Ruark loudspeakers have since become prized by audio enthusiasts worldwide for their sound quality and aesthetics, winning numerous accolades and awards.
Late in 2004 with the growing popularity of DAB, Alan was looking for a radio for his own use. It appeared that whilst sound quality is important for hi-fi, in radios and other small audio devices this vital issue was often dismissed. Seeing a gap in the market, and based on their wholehearted belief that they could do something better and bring high fidelity credentials to compact audio products, Alan and Neil formed Vita Audio.
Despite only launching their first product (the R1) in November 2006 Vita Audio is already being regarded as one of the finest small audio brands available.