Second Generation Ocean Incorporates Broad Range of Mobile Content, Social Media and GPS Features on 3G Network
Virgin Mobile USA Also Extends 7PM Nights & Weekends to Contract Customers
Virgin Mobile USA (NYSE: VM) has announced the first contract 3G handset in its 2009 line-up, the long-awaited Helio Ocean 2 by Virgin Mobile. A sleek, soft-edge dual slider, the new Ocean 2 boasts slimmer lines and a larger screen than its predecessor.
With easy access to popular messaging and social networks and sites, the Ocean 2 by Virgin Mobile will be on sale for $149 at www.virginmobileusa.com beginning February 12, 2009. The handset will also be available at select retailers. The Helio Ocean 2 is produced exclusively for Virgin Mobile USA by Personal Communications Devices, LLC (PCD).
Virgin Mobile USA is also taking this opportunity to introduce two new benefits to its contract voice plans that align with the carrier's no annual contract offerings:
Beginning February 12, all contract customers will have
Unlimited Nights & Weekend calling starting at 7 PM, which is two hours earlier than many other carriers. Virgin Mobile USA no annual contract customers already enjoy 7 PM Nights & Weekends.
In addition, Virgin Mobile is eliminating the $5 charge for unlimited mobile to mobile calling.
"The original Ocean was one of the first high-end, 3G mobile phones that consumers could afford. With the sequel, we are expanding Virgin Mobile USA's offerings to include contract plans and delivering a fully connected device packed with everything you could ask for," said Jonathan Marchbank, Chief Operations Officer, Virgin Mobile USA. "The Ocean 2 is a powerful combination of voice, features and data at a great price."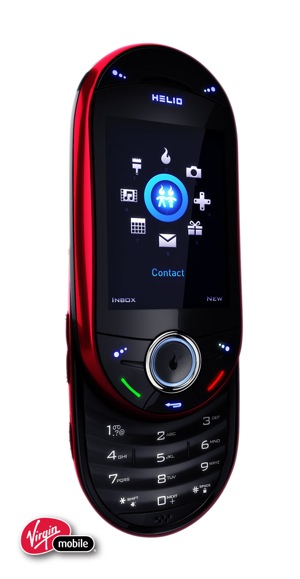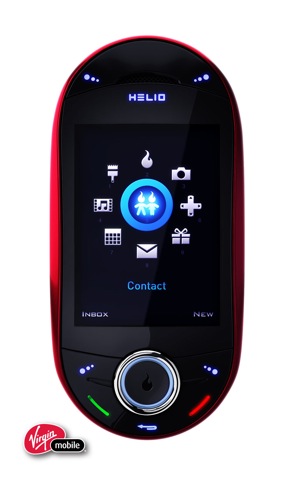 Virgin Mobile USA's contract voice and data plans offer some of the best value in the industry, and are customized for consumers who want a top-notch mobile experience without breaking the bank. Contract customers can chose from three different monthly voice plans that best suit their needs:
$65 per month includes 500 daytime minutes, unlimited nights and weekends, unlimited mobile to mobile calling, unlimited messaging and unlimited data usage
$85 monthly plan includes 1000 daytime minutes, unlimited nights and weekends, unlimited mobile to mobile calling, unlimited messaging and unlimited data
For $99, unlimited voice, messaging and data
The Best of What's New: How the Ocean 2 Stacks Up Against the Ocean
The Helio Ocean 2 is a sleek dual-slider QWERTY handset with an impressive list of upgraded features:
A larger landscape mode 2.6″ QVGA screen designed to deliver an enhanced mobile browsing experience at 3G speed.
One-click access to the new Connect social networking dashboard solution.
The Ultimate Inbox instant messaging suite has expanded to include Google Talk™.
The Media Player now provides background mode playback allowing the user to multi-task while listening to music.
Mail for Microsoft Exchange is included in data plans, eliminating the premium monthly fee.
The HTML browser now allows members to quickly text or email a URL, and has tabs to surf multiple web pages with ease.
The File Viewer now allows for the editing of Microsoft Works, Excel and PowerPoint files right from the device.
A new optical sensor directional/navigational pad provides analog scroll input capability.
The new keyboard offers an improved typing experience with a new enlarged, rubberized keypad.
The 2MP camera with video recording includes "night shot" and location tagging.
Memory upgraded to include a 512MB external MicroSDTM card.
Product Details
Key highlights of the Helio Ocean 2 by Virgin Mobile include enhanced messaging and social media communication features, new location-based services and a superior media experience.
To Communicate:
The Ultimate Inbox combines email, text messages, picture messages and instant messages in a single messaging hub that's just one touch away.
The Ocean 2 offers consumers convenient out-of-the-box access to Yahoo!™, AOL™, Microsoft's Windows Live™ and Google™.
Connect, a newly launched feature, brings one-click access to updates and alerts across multiple social networks and media sharing sites such as Facebook™, MySpace™, Flickr™ and YouTube™.
Effortless Email, Calendar, and Contact synchronizing integration with Mail for Microsoft Exchange.
To Locate:
Ocean 2 offers a comprehensive GPS-enabled version of Google Maps™ mobile experience, with integration to the address book to quickly map contacts.
Buddy Beacon™, a premier friend-finder application, is the first location-sharing app available across multiple carriers. A feature-rich Facebook application helps share location and finds points of interest.
A premium Garmin™ Mobile subscription application includes real-time turn-by-turn directions, real-time traffic information, ability to find things like the cheapest gas station in an area, and more.
One-click Search continues to have home screen input capabilities for fast and easy lookups on Yahoo!™, Google™, Wikipedia™, Amazon™ and Yelp™.
WHERE™ is a suite of location-aware widgets that finds relevant local information, now integrated with the web browser.
To Create:
A complete mobile YouTube™ experience including integrated video capture and upload, GPS tagging, and full "Log In" for personalization, rating and community features.
One-click upload of photos and videos to sites such as Facebook, YouTube™, Flickr™, Photobucket and the Helio Album.
File Viewer contains key office tools and the ability to view, save, share and now edit files on the device, including Microsoft Word, Excel and Power point documents.
Additional Features:
3.5mm standard media headset jack/headset
Stereo Bluetooth Wireless
Upgraded Alert Manager
3D gaming
Video ringtones and wallpapers
Opera Mini preload
Full-featured Planner includes Calendar, To-Do List, Notepad, Stopwatch, Alarm, Calculator and World Time Clock
Virgin Mobile USA is initially releasing the Ocean 2 in a limited edition Red; black Ocean 2s will start to become available later this year.