V-MODA today announced the Crossfade LP Rouge (red) and Nero (purple) headphones, which add more color choices to the Crossfade LP headphone line. Both new models include fashionable crocodile etchings on the metal ear cups with eye-catching color accents on the headband.
The Crossfade LP Rouge features red accents on the headband, a red and black audio cable, as well as an all black three-button remote cable.
The Crossfade LP Nero displays royal purple headband accents and comes with a black and purple audio cable, and an all black three-button remote cable.
Product Info
Featuring patent-pending 50mm Dual-Diaphragm High-Definition Drivers, the Crossfade LP delivers multiple driver sound with the efficiency of a single driver. The driver's unique dual-diaphragm construction consists of a harder inner ring providing an extended high range and a softer outer ring for deep lows. The result is deep vibrant bass, organic mid-range, and crystal clarity on portable devices without the need for batteries. Supple memory foam ear cushions isolate noise and immerse you into your own world of audio nirvana. Constructed of ultra lightweight metals and luxurious fabrics, the Crossfade LP is the ultimate multi-purpose headphone, perfect for on the go, at the gym or on stage.
The Crossfade LP is equipped with a detachable cable featuring a three-button remote control and high-fidelity microphone to easily change volume and answer or end phone calls. Using a revolutionary metal "V" design and supple memory foam ear cushions, the Crossfade LP offers a comfortable fit tailored by ergonomic experts. Relentless research went into the precise shape and materials of the headband and ear cushions, resulting in a tailored, fashionable fit without unsightly gaps and minimal pressure on the head and ears for extended play. Four years of testing the Crossfade LP on tour and in everyday life situations resulted in a tank-like steel frame, flexible memory headband, and detachable Kevlar®-reinforced cables to ensure unprecedented rock solid durability.
Compatibility
Equipped with a detachable three-button remote control and microphone cable, the Crossfade LP lets you take calls in stereo. The remote/mic cable gives complete control of calls and music, featuring volume control, music and video playback, voice memo recording and the ability to answer calls with the iPhone 4, iPhone 3GS and iPhone 3G.
In addition, the remote control is compatible with the latest Mac lineup, including the MacBook, MacBook Pro, iMac and Mac Pro and can be used to iChat, play games and utilize other audio recording applications. A long (69″) audio cable with 1/4″ adapter is also included so you can listen to music from your iPod, iPad, DJ mixer and professional audio equipment. Mic + call control compatible with any iPhone and all phones with a 3.5mm port. Visit v-moda.com/compatibility.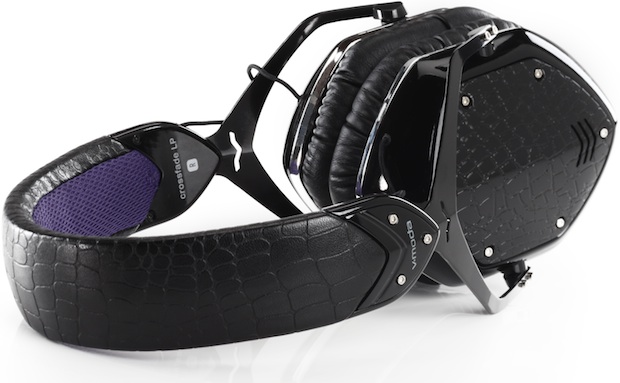 The Crossfade LP includes:
Two detachable Kevlar®-reinforced cables with 24k gold-plated 45 degree plugs:
One 3.5mm audio fabric cable for universal audio device compatibility
One 3.5mm fabric cable with three-button remote control and microphone for use with the latest iPhone, iPad, iPod and MacBook
One 1/4″ adapter for DJ and pro audio system connectivity
Distinctive exoskeleton carrying case with V-STRAP storage system, ensuring headphones are protected in style
One-year V-MODA premier warranty
Replay Replacement Program — 50 percent off lifetime discount to replace consumer-damaged headphones
Price and Availability
V-MODA Crossfade LP Nero ($249.99) is currently available at Best Buy stores and online at shop.vmoda.com and amazon.com.
V-MODA Crossfade LP Rouge ($249.99) is available online at shop.vmoda.com and amazon.com.
"Over-ear headphones are a major fashion statement in today's music culture. We created Crossfade LP to be the one functional fashion accessory that you will wear every day. Music lovers can enjoy the live sound stage created with the most precise engineering and ultimate durability while showcasing their individual style with our newest colors and designs."
— Val Kolton, professional DJ and CEO of V-MODA
v moda crossfade Reviews
From Critics Around the Web