New Tripp Lite Surge Suppressors With Longer Cords Deliver Greater Flexibility
FOR IMMEDIATE RELEASE
Chicago, IL (August 14, 2007)–Tripp Lite, a world-leading manufacturer of power protection equipment, has introduced three new surge suppressors: the Isobar ISOBAR825ULTRA and Protect It! TLP725 and TLP825, with 25-foot cords for greater flexibility while protecting computers and other electronic equipment from damaging surges, spikes and line noise.
"We believe in performance and convenience," said Karenann Brow, Tripp Lite's Senior Product Manager. "Longer cord length makes these products incredibly flexible. If your outlet is on one side of the room but you want to set up your system components on the other, these products make it a reality."
With a suppression rating of 2350 joules, the ISOBAR825ULTRA features Isobar's exclusive isolated filter banks which eliminate line noise interference between connected components. Designed with eight outlets arranged in four filter banks, it prevents common system crashes, reboots and performance problems. Diagnostic LEDs confirm power availability, line fault and protection status to alert users to potential power problems before damaging connected equipment, and the 25-foot cord also features a right-angled plug that sits flush against the wall to save space.
The new TLP725 and TLP825 Protect It! Surge Suppressors offer economical AC surge protection to shield connected equipment from damage and performance problems due to power irregularities. In addition to the 25-foot cord, the TLP725 features seven outlets, diagnostic LEDs and a 1000-joule supression rating. The TLP825 features eight outlets with child-safety covers, diagnostic LEDs, a 1900-joule rating and a 25-foot cord with a right-angled plug.
For more information on Tripp Lite's new surge suppressors and to view the entire line, go to:
http://www.tripplite.com/products/suppressors/suppressors-model-series.cfm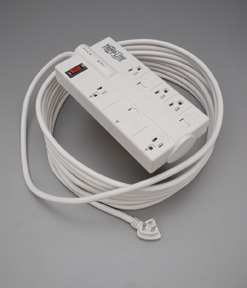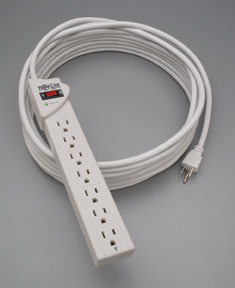 About Tripp Lite
Outstanding product reliability and exceptional service have been Tripp Lite trademarks for more than 85 years. Tripp Lite's innovations include the world's first UPS system designed specifically for personal computers, and the world's most trusted premium surge suppressor–the Isobar–with more than 16 million in use. Tripp Lite maintains the highest level of ready-to-ship inventory in the industry with more than 1,000 different products, including UPS systems, surge suppressors, inverters, KVM switches, cables and connectivity products, power strips and PDUs, notebook accessories, rack systems, network management accessories and more. Headquartered in Chicago, Illinois, Tripp Lite maintains a global presence with fully staffed offices worldwide. Additional information, including a list of Tripp Lite's sales offices and authorized reseller partners, can be found by visiting Tripp Lite's website: www.tripplite.com.
Media Information
Gloria Wong – Media / Public Relations Manager
773.869.1229 / fax 773.869.1935
gloria_wong@tripplite.com