Pure Sine Wave UPS Systems for A/V Installations with Drivers Written for AMX and Crestron
Chicago, IL (June 8, 2009)–During InfoComm 2009, Tripp Lite will be showcasing its Pure Sine Wave UPS Systems for professional A/V integrators and installers. These UPS Systems provide true on-line operation with pure sine wave output and zero transfer time to battery, making them ideal for protection of large A/V systems in boardrooms, studios, houses of worship, digital consoles, EFX racks and similar applications.
Key Features and Benefits:
– Provide clean power 24/7 to protect equipment from harmonic distortion, surges and spikes
– Feature full IP addressability for email notifications, remote diagnostics and system reboots
-Drivers written for AMX and Crestron
By regenerating perfect power, these UPS systems provide the best available EMI/RFI harmonic filtration and surge/spike protection. Additionally, they feature zero transfer time to battery power, eliminating the 2-8 millisecond delay associated with AVR technology.
InfoComm is the largest and most comprehensive A/V event in the world. Over 30,000 A/V professionals from more than 80 countries are expected to attend this year's show in Orlando, Florida on June 17-19.
"Our Pure Sine Wave UPS Systems enable A/V professionals to integrate the highest level of power protection available into the largest installations," said Dennis Mariasis, Tripp Lite Audio/Video Brand Manager. "Not only do these UPS systems protect system components from damage due to power problems, they assure peak performance by providing clean, regulated power at all times. And with rivers written for AMX and Crestron, they allow for seamless integration."
Tripp Lite's Pure Sine Wave UPS Systems and other solutions for A/V applications will be on display at Booth #4678.
For more information on Tripp Lite's Pure Sine Wave UPS Systems, go to:
http://www.tripplite.com/ProAVups
Download Product Images:
http://www.tripplite.com/en/products/model-images.cfm?mid=3342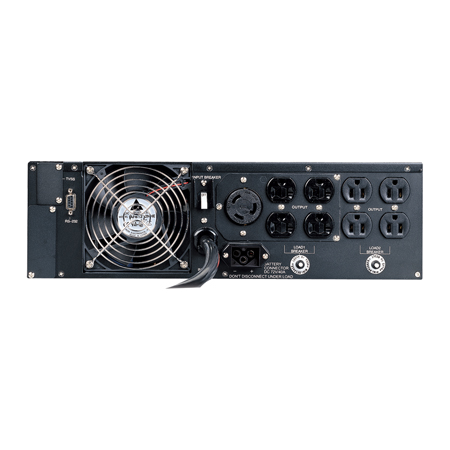 About Tripp Lite
Outstanding product reliability and exceptional service have been Tripp Lite trademarks for more than 85 years. Tripp Lite's innovations include the world's first UPS system designed specifically for personal computers, and the world's most trusted premium surge suppressor–the Isobar–with more than 16 million in use. Tripp Lite maintains the highest level of ready-to-ship inventory in the industry with more than 1,000 different products, including UPS systems, rack systems, PDUs, PowerAlert software for enterprise-level system management and control, surge suppressors, KVM switches, cables and connectivity products, inverters, power strips, notebook accessories and more. Headquartered in Chicago, Illinois, Tripp Lite maintains a global presence with fully staffed offices worldwide. Additional information, including a list of Tripp Lite's sales offices and authorized reseller partners, can be found by visiting Tripp Lite's website:
http://www.tripplite.com
Media Contact
Gloria Wong
Media/Public Relations Manager
773.869.1229 * Fax: 773.869.1935
gloria_wong@tripplite.com
Twitter
http://twitter.com/tripplite
Reviews Around the Web:

tripp lite pure