Tripp Lite Introduces HDMI Version 1.3-Certified Connectivity Products
FOR IMMEDIATE RELEASE
Chicago, IL (January 23, 2008)–Tripp Lite, a world-leading manufacturer of power protection and connectivity solutions, has introduced a line of new HDMI Version 1.3-certified connectivity products: a 3-to-1 HDMI Switch with Remote (Model B119-303-R), an HDMI Active Wall Plate (Model P166-001-A), an HDMI Passive Wall Plate (Model P166-001-P) and an HDMI Signal Extender (Model B123-001). The switch permits users to select from one of three HDMI sources for display on a single monitor. The wall plates permit efficient and hidden connection between an HDMI source and a display device. Use either the Signal Extender or the Active Wall plate with built-in signal booster to connect an HDMI source to a display device up to an incredible 150 feet away. These new products complement Tripp Lite's already extensive line of HDMI Cables.
HDMI Version 1.3 increases single-link bandwidth from 165Mhz to 340Mhz (or 10.2 Gbps) to meet the needs of newer high-definition display devices. This higher speed provides support for "Deep Color" (color depths up to 48 bits), higher resolutions and higher frame rates. The result is unprecedented vividness and accuracy of colors. Version 1.3 also supports the new lossless audio formats, providing theater-quality sound. Many new LCD TVs, plasma displays, hi-def DVD players, A/V receivers and game systems including the Sony PLAYSTATION 3 make use of the capabilities embodied in Version 1.3. And since Version 1.3 is backward compatible, these products will work with all HDMI systems, new or old.
"With so many new HDMI Version 1.3-compliant products coming onto the market, the need for Version 1.3-certified connectivity solutions is great and growing," said Tripp Lite Cables and Connectivity Product Manager David Posner. "Tripp Lite was quick to recognize this need, and we've responded with four new connectivity products that will enable end users to make the most of HDMI Version 1.3's tremendous potential."
For more information on Tripp Lite's new HDMI Version 1.3-certified connectivity solutions, go to:
http://www.tripplite.com/HDMIproducts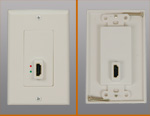 About Tripp Lite
Outstanding product reliability and exceptional service have been Tripp Lite trademarks for more than 85 years. Tripp Lite's innovations include the world's first UPS system designed specifically for personal computers, and the world's most trusted premium surge suppressor–the Isobar–with more than 16 million in use. Tripp Lite maintains the highest level of ready-to-ship inventory in the industry with more than 1,000 different products, including UPS systems, rack systems, PDUs, PowerAlert software for enterprise-level system management and control, surge suppressors, KVM switches, cables and connectivity products, inverters, power strips, notebook accessories and more. Headquartered in Chicago, Illinois, Tripp Lite maintains a global presence with fully staffed offices worldwide. Additional information, including a list of Tripp Lite's sales
Media Information
Gloria Wong – Media / Public Relations Manager
773.869.1229 / fax 773.869.1935
gloria_wong@tripplite.com