Hong Kong, April 25, 2007 – ITOK Media Ltd's innovative Hi-Fi brand Trends Audio
(http://www.TrendsAudio.com) wins his first award in 2007. The editors at
Stereomojo.com, together with a panel of independent judges, scour the market
for the year's most innovative Digital AMP products delivering value to HiFi users.
Finally, Stereomojo.com has selected Trends Audio TA-10 Class-T stereo amplifier,
as Winner of the 2007 Great Digital AMP Shootout" of its "MAXIMUM MOJO AWARD".
"We are proud to be the winner of of the 2007 Great Digital AMP Shootout"
the Marketing Director of Trends Audio, David Ho said. "Raved by reviewers,
audiophiles and music lovers worldwide, the TA-10.1 is widely considered
the best sounding (and best value) among Class -T amps (and the best amps
available)! This potent little handful is quickly becoming a global audio
phenomenon".
Here is what industry expert is saying Trends TA-10:
Trends strength comments:
Brass sounds better; better trailing edge to notes; no noticeable sibilance;
nice big soundstage; very clean sounding but not edgy; coherent and detailed;
3D soundstage; great bass response; good resonance; good vocals and detail;
excellent imaging
Clean and detailed; vocals excellent; good soundstage and imaging; contrast;
flow of the music; resolution; this is the most articulate of all the amps;
sweet sounding; good resonance, very natural sounding; very little sibilance,
if any; nice deep bass, open highs without being screechy; sounded very good
on Vienna Teng; clean with good detail;
Fuller bass and nicer highs; good string attack; I just know now when I hear
this amp and it's really great in all areas to me; dynamic resolution and
image depth; emotionally involving
Please see the details: http://www.stereomojo.com/SHOOTOUT2007INTEGRATEDS.htm
Trends TA-10 Class-T Amp. has received prize from reviewers, audiophiles and
music lovers worldwide and they are looking for dealers to resell their products.
The suggested retail price of Trends TA-10.1 is only US$119 including the AC power
adaptor. For more information or interested in joining their reseller program,
you can visit their web site at http://www.TrendsAudio.com or call Trends Audio
(852) 2566-5810 or send email at sales@TrendsAudio.com
———————————————————————————
Please feel free to contact us if you would like to have an interview
with us or need some screen shots for this Press Release or request a
FREE trial of Trends TA-10.1 Class-T Amp.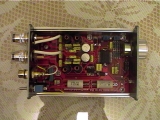 }}