Welcome To Experience The Innovative Hi-Fi Audio Products and visit Trends Audio at
Booth #: Halle 3, Stand F01
Trends Audio Germany, the distributor of Trends Audio's products will demonstrate a variety of compact design Trends Audio's products including Class T Amplifier, Tube headphone/Pre Amplifier, USB Transport and USB Audio Converter at Germany's HIGH END 2009!
You are specially invited to share the excitement of this event and Trends Audio active involvement in European market.
Date: May 21 – 24, 2009
Time: May 21 (Thu) 10:00-18:00 Pre-registration
May 22 – 24 10:00-18:00 Public
Location: M,O,C, Munich, Lilienthalallee 40 80939 Munich, Germany
Booth #: Halle 3, Stand F01
Contact: Mr. Frank Koglin
Here's a quick look at several of the high end but not high priced audio products Trends Audio Germany will be showcasing at Germany's HIGH END 2009:
1. Trends PA-10 Tube Headphone/Pre Amplifier
It is an innovative audio product and provides all functions of headphone amplifier and pre-amplifier. It includes the innovative circuit design of low voltage hybrid (tube/transistor) pre-amp to provide audiophile quality sound, compact size(only 0.5 KG), and easy/safe DIYer accessibility – pure class-A circuit to provide the best sound performance in Pre Amplifier and have fun tube rolling with this fantastic headphone amplifier. Providing TWO sets of switchable audio inputs. Besides the normal CD/DAC input, the PC/iPod input with higher gain is provided for small output PC/Mac/iPod.



2. Trends TA-10.1 Class-T Stereo Audio Amplifier
The award winning amplifier Trends TA-10 Class-T Stereo Audio Amplifier provides up to 2x15W output with the bundled AC power supply unit. Thanks to the Tripath's proprietary Class-T Digital Power Processing™ technology and our special techniques in circuit design and component selection, Trends TA-10 Amplifier achieves the sound quality of high-end Hi-Fi but in a very affordable price. It is mini-size & light weight (only 1 KG including
AC power supply), easy portable and setup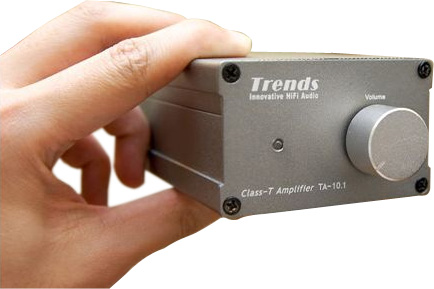 3. Trends UD-10.1 USB Audio Converter
It is Revolutionary Hi-Fi Product at an Amazing price! Just plugs into your PC/Mac's USB port and lets you connect your computer to your Hi-Fi or Home Cinema system easily, and with high sound quality.
Trends UD-10.1 USB Audio Converter can link with coaxial, optical and standard AES/EBU(110 Ohm via XLR) and S/PDIF (75 Ohm via RCA or BNC).This permits a PC/Mac to essentially impersonate a high-end digital-playback device, such as a high-end music DVD or CD player. The PC/Mac can also pass digitally encoded signals into a receiver or signal pre-processor/pre-amplifier for high-end audiophile applications.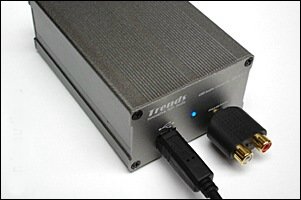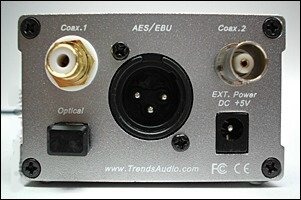 4. Trends UD-10.1 Lite USB Audio Converter
Just like the Trends UD-10.1 USB Audio Converter and it provides two concurrent digital outputs (Optical x1, Coaxial x1 (RCA) for connection with external DAC. Trends UD-10.1 Lite upgrades the PC to be a hi-end audio source .and bridge the gap between a media PC/Mac and an audiophile-grade sound or home entertainment system



About Trends Audio.
Trends Audio is a Hong Kong based company working in audio/video and multimedia production. Since the release of Trends TA-10 Class-T Stereo Audio Amplifier in 2006, Trends has received many prizes from audiophiles worldwide. Trends Audio's products have become legendary for their compact design, performance and reliability in high end audio market.