New Business Class Notebook with Intel Centrino Pro Processor Technology Debuts as an Affordable, High-Performance Desktop Replacement Featuring Increased Productivity and Enhanced Durability
Toshiba's Digital Products Division, a division of Toshiba America Information Systems, Inc., today announced the new Tecra A9 notebook computer, the latest addition to Toshiba's award-winning business class notebook family.
The affordable, high-performance Tecra A9 maintains Toshiba's emphasis on productivity and durability through innovative technological enhancements by offering mobile users the new Intel Centrino Pro processor technology and Toshiba's third generation EasyGuard™ technology.
"The Tecra A9 blends the most innovative technologies to ensure high durability, reliability and security for mobile computing users, while providing exceptional performance, all at an affordable price point," said Jeff Barney, vice president of marketing, Digital Products Division, Toshiba America Information Systems, Inc. "This notebook's predecessor, the Tecra A8, was one of Toshiba's most successful notebooks in terms of sales and minimal warranty claims. The Tecra A9 builds upon that success."
Toshiba's Tecra A9, along with the new Tecra M9, are the company's first notebooks to integrate the Intel Centrino Pro processor technology. This new mobile microarchitecture consists of four primary components including the Intel Core™ 2 Duo Processor, the Mobile Intel 965 chipset, new Intel Wireless Wi-Fi Link 4965AGN supporting draft 802.11n wireless connectivity and Intel Active Management Technology (AMT 2.5).
The Tecra A9 offers the draft 802.11n wireless protocol delivering up to five times the throughput performance and up to two times the range of the 802.11g standard. With draft 802.11n, Tecra A9 users will experience faster connection speeds and eliminate network connection interruptions while moving about the office. Also, the Intel AMT 2.5 will enable network managers to better manage mobile computing assets to deliver proactive security and enhanced maintenance, minimizing user downtime and providing greater efficiency at or away from the office.
"With the Intel Centrino Pro processor technology, the Core 2 Duo Processors get even better, providing an ideal solution for small-to-medium business mobile professionals," said Erik Reid, marketing director, Intel Mobile Platforms Group. "This new processor technology provides the Toshiba Tecra A9 with enhanced graphics performance, improved wireless capabilities, better manageability and great battery life–all the necessities of a mobile professional."
In addition to improved processing power, the Tecra A9 incorporates Toshiba's third generation EasyGuard technology providing a more reliable and more secure mobile computing experience. Throughout the design process, the Tecra A9 was subjected to rigorous quality tests to help ensure superior quality in every aspect.
Toshiba's EasyGuard technology provides the Tecra A9 with the following enhancements:
Shock Absorbing Design: The sleek industrial design integrates enhanced protection zones along all sides of the notebook to help the Tecra A9 better withstand accidental drops from heights up to one meter. In addition, Toshiba implemented reinforced ribs in the rounded edges of the display lid to better protect critical components by better dissipating energy resulting from accidental bumps or drops.
HDD Protection: Recognizing that the hard disk drive (HDD) is one of the most critical components and that accidentally dropping a notebook rarely occurs in a linear motion, Toshiba implemented the 3D accelerometer, a mechanism which detects acceleration from all directions. The 3D accelerometer helps guard the HDD against awkward accidental drops, including a spinning, falling notebook, by rapidly removing the HDD head from between the HDD platters, better protecting the notebook in all three rotational dimensions of pitch, roll and yaw.
Spill Resistant Keyboard: Toshiba also improved their spill resistant keyboard to help protect against accidental spills of liquids, including soda, beer and coffee with cream and sugar, an upgrade from the previous protection against water. This enhanced feature affords users time to save work and shut down the system in the event of an accidental spill–helping to prevent the loss of data.
Additional information about Toshiba's EasyGuard technology is available at http://www.easyguard.toshiba.com.
Optimized for Windows Vista™, the Tecra A9 will be available with solid graphics performance through the Intel Integrated Graphics Media Accelerator X3100 at launch, and will expand to include models featuring NVIDIA Quadro NVS 130M discrete graphics chipset with a total available video memory of up to 511MB and native support for DirectX10. NVIDIA Quadro NVS series of graphics chipsets provides graphics solutions that are optimized for better compatibility with the latest applications to fit the computing lifestyles of mobile professionals.
With a brilliant 15.4-inch diagonal widescreen display and excellent graphics capabilities, the Tecra A9 enhances the functionality of Windows Vista and delivers rich color and contrast to improve the visual experience of the sophisticated glass-like Microsoft Windows Aero™ interface. The widescreen display provides exceptional side by side viewing of multi-page documents, multimedia files and large spreadsheets.
The Tecra A9 also comes complete with redesigned and new innovative navigation and input technologies, such as the keyboard optimized for Vista, touchpad, Accupoint and Toshiba's new Sleep and Charge USB port. The redesigned keyboard, touchpad and Accupoint navigation tools deliver a feeling of confidence and comfort for enhanced usability. Toshiba's Sleep and Charge USB port included with the Tecra A9 allows users to charge compatible electronic devices such as cell phones or mp3 players whether the system is on or off.
The following configurations demonstrate the various specifications and price options of the Tecra A9 series:
Tecra A9-ST9001 Recommended Configurations (ESUP $1,159)
Genuine Windows Vista™ Business (32-bit version)
Intel Core™ 2 Duo Processor T7100 1.8GHz, 2MB L2, 800MHz FSB with 64-bit
1 GB PC2-5300 DDR2 SDRAM memory
80GB (5400RPM) Serial-ATA (SATA) hard disk drive
DVD SuperMulti (+/-R double layer) drive supporting 11 formats
15.4-inch diagonal widescreen TFT LCD display (SXGA)
1280×800 native resolution
Mobile Intel Graphics Media Accelerator X3100 with 8MB-251MB dynamically allocated shared graphics memory
Intel PRO/Wireless 3945ABG (802.11a/b/g)
Bluetooth v2.0 plus Enhanced Data Rate (EDR)
Complete product specifications for all the Tecra A9 models are available at http://www.toshibadirect.com. Toshiba's Tecra A9 is now available through Toshiba Direct, mail order and the company's Reseller Partners with prices starting at $1,159.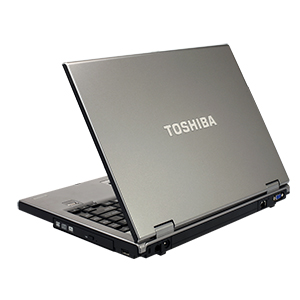 The Tecra A9 is available with either a one or three-year standard, limited warranty, which includes carry-in support at Authorized Service Providers throughout the country; or customers may utilize any of the more than 3,000 UPS Stores and Mail Boxes Etc. locations for packaging and delivery of the product to a centralized depot for prompt turnaround service. Customers can also choose to upgrade the notebook's service plans, including up to four years of extended warranty coverage.