Toshiba Announces Premier Projector With "Extreme Short Projection" That Features 2,300 ANSI Lumens, Windows Vista, Wireless Network Capabilities and "PC-Free" Presentations for $1,599
Toshiba's Digital Products Division, a division of Toshiba America Information Systems, Inc., today announced the company's latest premier DLP BrilliantColor™ mobile projector with "extreme short projection" capabilities for greater luminance and larger images from a shorter distance. The TDP-EX20U projector features Windows Vista networking capabilities, integrated wireless(1) functionality for quick set-up and sequential presentations, as well as remote network management and extensive multimedia connectivity.
The compact and stylish TDP-EX20U projector is designed for education, mobile professionals, corporate customers, small-to-medium sized businesses, consumers and Pro AV installation, all for an ESUP of $1,599(2).
To enhance the learning experience at all levels of classroom instruction, business use and digital home entertainment, the portable TDP-EX20U projector's "extreme short projection" capabilities produce a remarkable 60-inch image from just three feet away. "Extreme short projection" produces more luminance or brightness because the image has a shorter distance to travel, reducing the amount of ambient light that can harm image quality.
"There isn't a better short throw projector on the market at this low price," said Sam Malik, director of projector sales and marketing, Toshiba Digital Products Division. "Other projectors with short throw capabilities cannot match the TDP-EX20U's price, value-added features and portability.
The TDP-EX20U projector can be ceiling mounted and, unlike conventional projectors, the "extreme short projection" technology eliminates eye glare and the problem of screen shadowing when the presenter is close to the screen. When used as a portable projector, the "extreme short projection" technology enables users to present at various table heights such as at the end of a desk, conference table or even a low coffee table.
The TDP-EX20U projects fine text and images with an impressive 2,300 ANSI lumens and a rich, vibrant DLP BrilliantColor™ display. The DLP BrilliantColor™ technology utilizes up to six separate colors: red, blue, green, cyan, yellow and magenta for a wider variety of accurate, vibrant colors that won't fade over time. BrilliantColor™ technology enables a 50 percent increase in the brightness of colors. The projector also features an XGA 1024 x 768 native resolution, razor sharp contrast ratio of 2000:1 and offers on-the-go professionals the option to deliver "PC-free" presentations with a USB thumb drive by simply storing the presentation in JPEG format and connecting to the USB port.
Users can also expect seamless presentations with remote network management from this projector. The TDP-EX20U can be networked and controlled remotely via a wired LAN connection, which is password protected for increased security. Due to the TDP-EX20U projector's Windows Vista network capabilities, presenters can wirelessly transfer JPEG files from a notebook with ease for slide show presentations or images embedded in documents. The built-in IEEE 802.11g wireless(1) functionality of the TDP-EX20U delivers fast set-up time and enables presenters to easily connect their wireless notebooks to the projector from anywhere in the room and deliver sequential presentations without the need for cables. The Toshiba TDP-EX20U projector's network capability also allows IT administrators to remotely control the projector over a network and receive e-mail notification via SNMP (Simple Network Management Protocol) for issues related to temperature, fan and lamp status.
HDTV/DTV compatible, Toshiba's TDP-EX20U integrates data, video and audio features necessary for high-end multimedia presentations. The projector comes packaged in a sleek, high-tech casing with multiple computer inputs (two RGB 15-pin), two video inputs for composite and S-video, two components (shared with computer inputs), one-watt stereo speaker, type A USB port and both wired and wireless connectivity options. Other features unique to the TDP-EX20U include variable audio out, digital zoom and auto set, which allows users to automatically synchronize the settings between their PCs and the projector.
The Toshiba TDP-EX20U projector also includes the following leading-edge features:
Toshiba's unique Natural Color Enhancer4 color correction circuitry, delivering exceptionally sharp and vivid images that more closely match original presentation colors;
"Blackboard" function with wall color adjustment. Simply select a wall color, such as green, black, brown, blue or beige, for a clearer display on non-screen surfaces;
One-touch auto setup on a fully-loaded presentation remote to ensure worry-free, professional presentations even in the most unforgiving environments;
Digital zoom function on the remote control allows the presenter to zoom in on a specific image or presentation element, such as spreadsheet numbers or other important details;
Password protection and key-lock function to help prevent unauthorized use;
Instant power shut down capability that enables the projector to power off instantly once disconnected from the power outlet with no cool-down time required;
Automatic digital keystone correction system, allowing presenters to adjust errors quickly and easily for a proportional, squared display;
Whisper-quiet operation of only 28 decibels (dB) (in low mode)–quieter than a soft conversation;
In addition, the projector features convenient lamp access on the top panel for easy lamp replacement, even when the projector is ceiling mounted.
The Toshiba TDP-EX20U is currently available through Toshiba's authorized distributors, VARs, mail-order outlets and http://www.toshibadirect.com.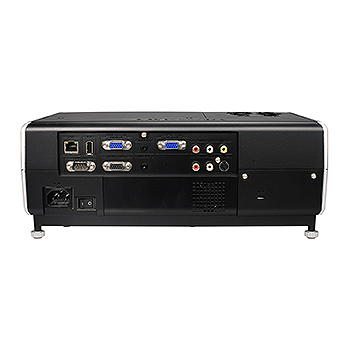 Toshiba TDP-EX20U projector specifications:
| | |
| --- | --- |
| Model | TDP-EX20U |
| Display Technology | 0.55″ DMD DLP |
| No. of Pixels | 1024 x 768 |
| Standard Lens | Fixed Zoom/Manual Focus Lens |
| Projection Lens F/f (mm) | F = 2.6, f = 8.37 |
| Throw Ratio | 0.74 |
| Aspect Ratio | 4:3 (16:9 switchable) |
| Light Source | 275W (220W in low mode) |
| Brightness | 2,300 ANSI lumens |
| Native Resolution | XGA 1024 x 768 |
| Built-in Wireless Technology | IEEE 802.11b/g |
| Color Reproduction | Full 16.7 Million Colors |
| Contrast Ratio | 2000:1 |
| Projection Screen Size (Diagonal) | 40 – 100 inches |
| Projection Distance | 1.9 feet – 4.9 feet |
| Optical Offset | 130 percent |
Green Statement
Toshiba strongly believes in corporate social responsibility and is committed to taking certain actions to help protect the environment. Toshiba has set an environmental goal to double its ecological efficiency by 2010, while currently manufacturing its products to meet the Restriction on Hazardous Substance(3) standard (RoHS). All Toshiba projectors are RoHS-compatible, reducing harmful environmental effects by restricting the use of lead, mercury and certain other hazardous substances.
About Toshiba America Information Systems, Inc. (TAIS)
Headquartered in Irvine, Calif., TAIS is comprised of four business units: Digital Products Division, Imaging Systems Division, Storage Device Division, and Telecommunication Systems Division. Together, these divisions provide mobile products and solutions, including industry leading portable computers; projectors; imaging products for the security, medical and manufacturing markets; storage products for automotive, computer and consumer electronics applications; and telephony equipment and associated applications.
TAIS provides sales, marketing and services for its wide range of information products in the United States and Latin America. TAIS is an independent operating company owned by Toshiba America, Inc., a subsidiary of Toshiba Corporation, which is a global leader in high technology and integrated manufacturing of electrical and electronic components, products and systems, as well as major infrastructure systems. Toshiba has more than 191,000 employees worldwide and annual sales of over US $60 billion (FY2006). For more information on Toshiba's leading innovations, visit the company's Web site at http://www.toshiba.com.
1. Wireless. May require purchase of additional software, external hardware, or services. Transmission speeds may vary. See Wireless Legal Footnote at http://www.info.toshiba.com.
2. Reseller prices may vary. ESUP means "Estimated Single Unit Price."
3. RoHS. This product is compatible with European Union Directive 2002/95/EC, Restriction of the use of certain Hazardous Substances in electrical and electronic equipment (RoHS), which restricts use of lead, cadmium, mercury, hexavalent chromium, PBB, and PBDE. Toshiba requires its projector component suppliers to meet RoHS requirements and verifies its suppliers' commitment to meeting RoHS requirements by conducting component sampling inspections during the product design approval process.
(C) 2007 Toshiba America Information Systems, Inc. All rights reserved. DLP the DLP logo and BrilliantColor™are trademarks of Texas Instruments. All other trademarks are the property of their respective owners. While Toshiba has made every effort at the time of publication to ensure the accuracy of the information provided herein, product specifications, configurations, prices, system/component/options availability are all subject to change without notice.