Thin and Light Laptop Offering One-Click Connection to Wirelessly Enjoy Digital Content on Big Screen HDTVs
Toshiba just introduced the Satellite E205 laptop, a next-generation thin and light laptop that features distinctive styling, performance-class technologies and new features that deliver more wireless freedom than ever. The laptop represents the second collaboration between Toshiba and Best Buy as part of the retailer's Blue Label™ initiative.
The Satellite E205 is one of the first laptops to feature Intel Wireless Display technology, which makes it possible for consumers to wirelessly connect the laptop to a big screen HDTV and enjoy digital content with great image clarity and amazing sound — at the touch of a button. The technology was unveiled today at the 2010 Consumer Electronics Show as part of Intel Corp.'s keynote address.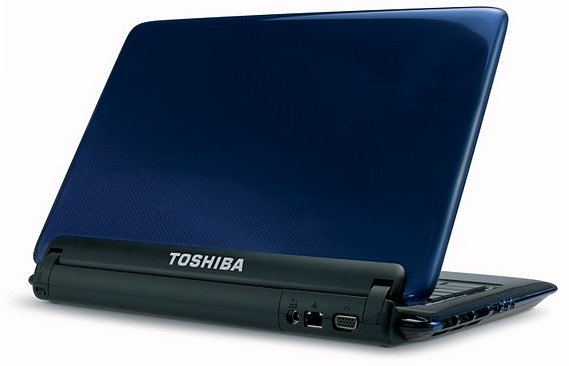 Offered exclusively at Best Buy stores nationwide, the Satellite E205 laptop was built from the ground up as the latest iteration in the Best Buy Blue Label program, which develops products based directly on feedback from Best Buy customers. The laptop features an all-new stylish lightweight chassis that weighs just 5.1 pounds, measures only 1.2-inches thick and houses performance-class technologies, including the new Intel Core™ i5-430M processor1 with Turbo Boost Technology, while delivering extended computing time and more premium features than the average laptop — all for $999.99 MSRP.
"Now, 'wireless' doesn't just mean Internet access. With this laptop, consumers can experience a new world of seamlessly enjoying their media with their friends and family on their HDTVs without having to deal with cables or crowding around a screen meant for one," said Ron Smith, vice president of marketing, Toshiba America Information Systems, Inc., Digital Products Division. "Together, with help from Best Buy's customer base, we have created a high-quality laptop with functionality we believe people will want, and one that will really stand out on shelves."
"Our customers are expressing a real desire for connectivity because they're more reliant than ever on their computers, and they want to be able to easily move content from these machines to other hardware in their homes," said Jason Bonfig, vice president of computers at Best Buy. "Now they can wirelessly send personal content like digital images or Hulu and Netflix shows from their laptops directly to their TVs — in up to 720p resolution."
Encased in an eye-catching metallic blue case, the laptop has a brilliant 14-inch diagonal widescreen LED Backlit display, an LED backlit keyboard, TouchPad™ with Multi-touch Control and a sleek integrated slot-loading DVD drive. The Satellite E205 also features a massive 500GB hard drive, 4GB of ultra-fast DDR3 RAM, Windows 7 Home Premium, Wireless-N Wi-Fi, an HDMI port and a battery life rating of up to six hours. The laptop also comes with a standard two-year Toshiba international limited warranty to ensure dependable long-term system performance.
Availability
The Satellite E205 will be available on January 17 at Best Buy stores nationwide and on BestBuy.com for $999.99 MSRP.