Toshiba Announces More Powerful and Stylishly Designed Satellite A300 Series
Toshiba's Digital Products Division (DPD), a division of Toshiba America Information Systems, Inc., today announced it's now shipping the new Satellite A300 series laptop computers, offering consumers enhanced performance and dependability, in a sleek eye-catching form factor.
The Satellite A300 series sports a new design and Toshiba's unique Fusion™ finish with Horizon pattern. The Fusion finish with Horizon pattern is a distinctive blend of appearance and texture that's bonded directly to the chassis, which results in an elegant and beautifully styled laptop.
"Users today expect their laptops to be a powerful tool for entertainment, communication, as well as a symbol of personal identity," said Jeff Barney, vice president of marketing, Digital Products Division, Toshiba America Information Systems, Inc. "By integrating Toshiba's Fusion finish in the Satellite A300, consumers will receive a gorgeous laptop that's also a powerful performer."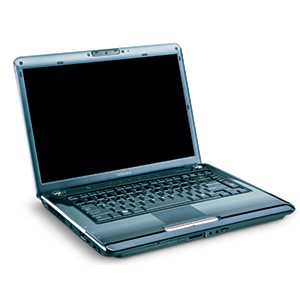 The Satellite A300 series sports a high-definition, 15.4-inch diagonal widescreen display, which allows users to view a wide variety of high-definition content including streaming online HD television programs and HD video podcasts. With new LED-illuminated "Feather-Touch" multimedia command keys the mere touch of a finger can control the audio and video playback of a user's favorite movies and music.
With a starting price of $949.99, Toshiba's Satellite A300 series offers a variety of useful and practical features such as a flush mounted touchpad, which rests seamlessly across the center of the palm rest with a white LED light across the top to enhance the detail-oriented finish, while providing a slight texture change so users can easily find the touchpad without looking away from the screen.

With innovative Sleep-and-Charge USB ports incorporated within the Satellite A300 series, users can charge their popular mobile devices such as MP3 players, mobile phones and PDAs, whether the laptop is powered-on or off. Another convenient feature found on the Satellite A300 series is the Webcam with Toshiba's facial recognition software, which offers users a unique and fun way to gain access to the laptop based on a recorded digital image of the user's face.
Providing users with a system for fun and leisure, the Satellite A300 series is loaded with a healthy assortment of enhanced audio features. The Satellite A300 comes standard with two built-in Harman Kardon stereo speakers with Dolby Sound Room™ Technology for a clean and crisp audio experience as well as an S/P DIF output port for 5.1 stereo surround sound.
Available in select models, users can expand the functionality of the laptop through REGZA LINK™ (HDMI-CEC) technology. Built upon the strength of HDMI, which enables the laptop to be connected to external displays, REGZA LINK empowers users with instant device configuration and the ability to control these linked HDMI-CEC enable devices, such as Toshiba's REGZA™ HDTVs with a single remote.

The Satellite A300 series is available in a variety of configurations, including Window Vista 64-bit, and the choice between the latest Intel Centrino Duo processor technology or AMD's leading-edge AMD Turion™ 64 X2 Dual-Core Mobile Technology processor. Together these configurations provide users with an abundance of power to enjoy all that modern computing stands for in terms of Internet, multimedia entertainment and productivity. Additionally, select models of the Satellite A300 come with ATI Mobility Radeon™ HD 3650 with 512MB DDR discrete graphics memory, for delivering exceptional graphics and image rendering.
The Satellite A300 series is available from a variety of major consumer electronics and computer stores nationwide or directly from Toshiba at http://www.toshibadirect.com.